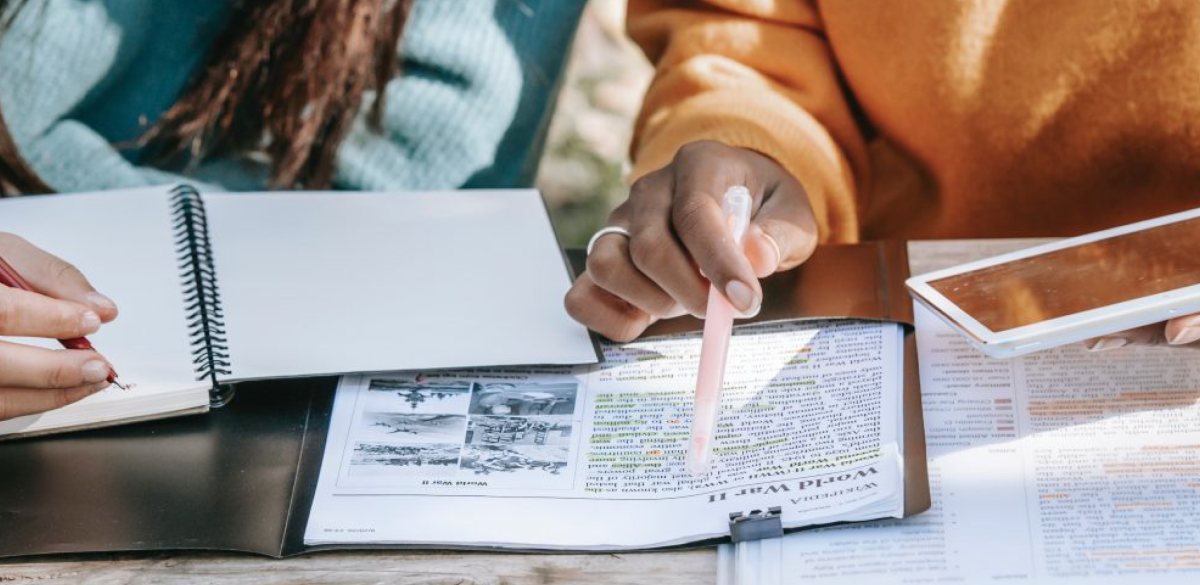 Advance Ethnic Studies with Youth Storytelling
December 17, 2020
San Francisco Unified is taking Ethnic Studies to a whole different level, incorporating podcasting to help lift student voices and develop the skills necessary to become agents of change. Two highly effective voices in this powerful cadre of educators, Bruna Lee and Nikhil Laud, are helping lead the way.
Bruna Lee is a teacher at Ruth Asawa School of the Arts (SOTA), the district's arts magnet school. Because it is an arts magnet, students are always looking for opportunities to bring their art and creativity into their academic classes, especially in Humanities, English, and Social Studies.
"When I first started at SOTA, and I asked the students, 'What do you like in a teacher, what are the kinds of projects that have worked for you,' and nearly all of them said, 'You know, if there's a way that we can incorporate our art into our academics, that would really engage us and make us feel like this assignment matters,'" said Lee. "Last year, I was offered the position to teach an Ethnic Studies elective for juniors and seniors. Because it's an elective, I took that opportunity to be able to make the class as project-based as possible and think of opportunities where students can use their creativity as well as their life experience to display their mastery of the content."
Lee's Ethnic Studies students participated in an oral history project, through which they interviewed an elder in their community about a topic of their choice. Students turned the interviews into podcasts using Soundtrap. The project, titled Humanizing Oral Histories, features podcasts about immigration, interracial relationships, queerness, feminism, activism, and more. All podcasts have one goal: to provide a humanizing, nuanced account of a person's life.
Nikhil Laud is one of the Ethnic Studies co-coordinators that helps support the Ethnic Studies program at San Francisco Unified School District. According to Laud, "Currently, [SFUSD has] an Ethnic Studies course being taught at every comprehensive high school in the district and in almost every alternative high school as well. Over the years, the program has really grown. Roughly 1,500 students are enrolled in these classes, but that's not nearly where we want it to be. What Bruna has done, particularly during her time, is a testament to some of our potential of really creative approaches to youth storytelling — and that's where we entered the picture."
In the Ethnic Studies program, students are taught to be change agents. The ability of students to hone their storytelling skills makes this possible.
"Central to developing people's capacity for being agents of change is developing their storytelling abilities," said Laud. "We try to have youth-centered narratives embedded throughout our curriculum. Our curriculum begins with concepts explored like identity and narrative and culminates in writing student autoethnography and sharing them with peers."
As Laud further explained, "Storytelling progresses beyond a critical look at the self into zooming out to see connections to community and the stories that matter to them most. We go from that to students doing action research or directly positioning them as social researchers and ethnographers. That's what sets Ethnic Studies apart from many other academic disciplines; our pedagogy centers on youth experiences and realities, and we use that as our textbook. In doing so, we want to enhance our young people's ability to reflect on the life they're living, to see connections with others, and to ultimately be advocates and allies for those who are most vulnerable."
Sharing the project with their communities was key to the success of the students. "One of the most powerful outcomes of this project was the fact that often in the classroom, students are completing work so that it can be presented to the teacher and maybe other students in the class," said Lee. "But what this project allowed us as an ethnic studies community to do, is to bring this project to a wider audience, which brings a lot of relevance to the project."
Both Lee and Laud have helped their students understand this work, a piece of oral history that they can take to share with their families, communities, and the person they interviewed. It allows for a certain level of authenticity to the project.
"These are stories that need to be uplifted, that have meaning for themselves as well as their communities and families," said Laud. The stories represent potent examples highlighting the interesting podcasting that came out of Lee's class at SOTA.
About Bruna Lee and Nikhil Laud
Bruna Lee is an English and Ethnic Studies teacher at Ruth Asawa School of the Arts (SOTA). She creates classroom experiences that uplift student voice and allow young people to see themselves as agents of change. See what her classroom is up to here (Ethnic Studies) and here (English).
Nikhil Laud has been an Ethnic Studies educator for 16 years and is currently coordinator of SFUSD's Ethnic Studies program centering on the principles of knowledge and love of self, solidarity and self-determination.
To learn more about the Ethnic Studies program, visit the following:
To learn more about podcasting in SFUSD, watch below: