Painting the Future Through the Arts with Soundtrap
April 20, 2022
Soundtrap is painting the future through the arts, quite literally. In a house near the state capital, a small child dips their finger in paint and smears it across a blank canvas; another finger, another color, smearing the hues together in swirls. In a car driving on a busy interstate, a child bops their head and sings along with a song. Some words they know, but most are just mumbles to match the rhythm and beat. In an apartment in a high-rise city, a teenager sits in front of a computer screen. Head down and locked in, splicing tunes into a melody matched with self-written lyrics.
And now, for the first time in one educator's 30 years of service, her school district is rewriting the curriculum for PreK-12 to meet this fundamental and innate nature of humanity with the integration of traditional academic learning and the arts, allowing the arts to take the lead.
 "The Arts Lead The Core"
Dr. Betty Hill, Supervisor of the Arts for PreK through grade 12 in Columbus City Schools (CCS) in Ohio, states, "The current support for integrating the arts and core academic curriculum is more significant than I've witnessed in my career. We are seeing a new paradigm where the arts lead the other academic areas to meet the whole child's needs."
Dr. Hill oversees an initiative that focuses on developing innovative, relevant, and rewarding learning experiences that enable the skills and mindsets needed for the development of the whole child, including the arts.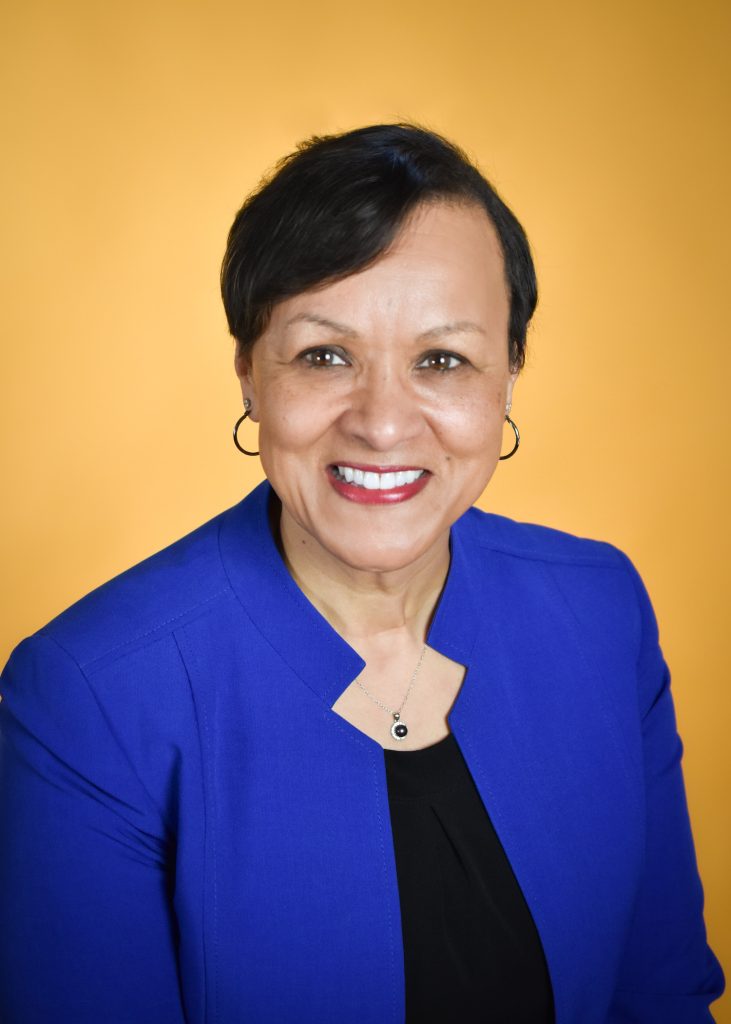 Betty J. Hill, PhD​, Supervisor, Unified Arts K-12, Columbus City Schools
"Integration of traditional academic learning and the arts are important to the educational development of students," says Dr. Hill. "It is essential to speak to our student's needs, understand what is important to them, what's relevant and rewarding, and engage that in educational spaces. The Guardrails for the Whole Child demonstrate the support of the initiative from the Board to the classroom."
Dr. Hill also ensures that the new curriculum is inclusive and culturally responsive, integrating additional support for English Language Learners and the LGBTQ+ community. "We want to be inclusive of all students as we develop curriculum and resources. It is important to be inclusive and provide equitable access for all".
The curriculum will also address the growing need for social-emotional learning (SEL). According to Dr. Hill, "It is equally important to speak to our student's social and emotional development and understand that the arts are uniquely positioned to do just that."
She has seen the importance of integration of traditional academic learning and the arts to support student well-being post-pandemic when a dance group who hadn't been together for an entire year returned for their final concert and produced a documentary on the experience. "We interviewed the students to talk about what it meant to them. It spoke to their state of mind and emotions. I cried through the entire thing," admits Dr. Hill. "It was beautiful, and it helps you understand why it is so important to enable students' engagement in the arts. For some of them, the only way they could express themselves was to get up on the stage and perform, and it came out of every pore of their body."
Portrait of a Graduate – Painting the Future Through the Arts
This strategic overhaul of the curriculum to refocus on the whole child stems from the district's larger initiative of painting a Portrait of a Graduate. CCS worked with more than 150 internal and external stakeholders with diverse perspectives to identify six key attributes. These attributes: Adaptability, Communication, Creativity, Critical Thinking, Global Empathy, and Technology, aim to prepare students for life beyond the classroom.
CCS has also identified four strategic priorities, each with individual goals and objectives, that will guide the various teams and stakeholders over the next five years. This effort is made to support the district's integration of traditional academic learning and the arts, mission, vision, and Portrait of a Graduate.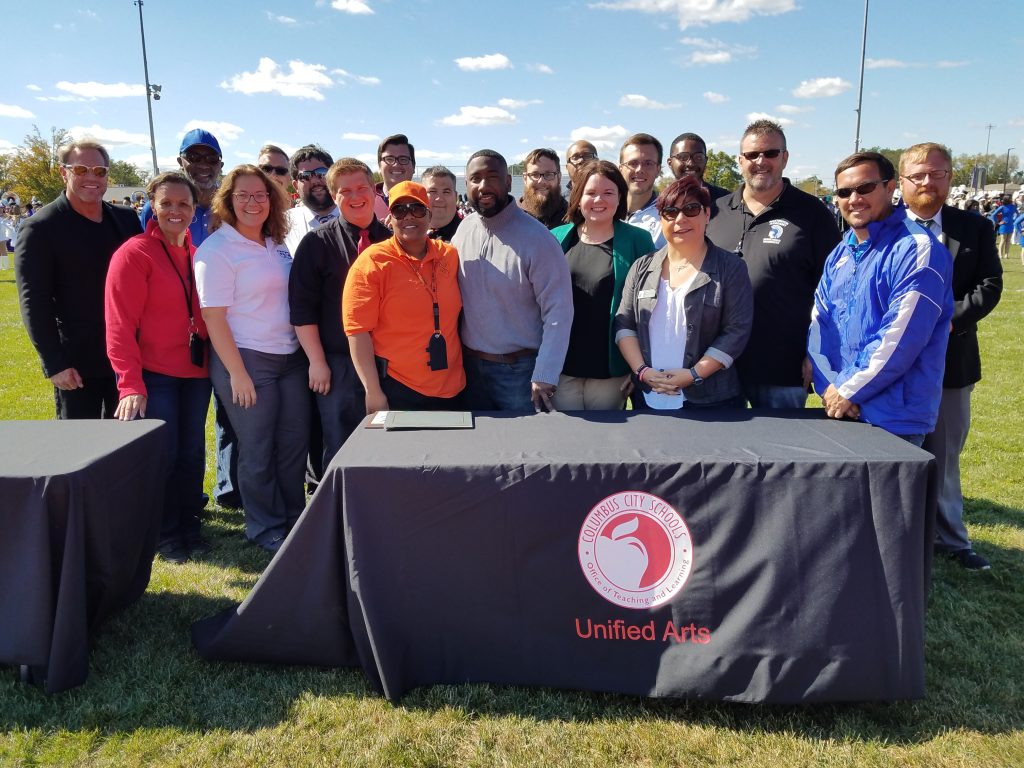 Dr. Hill with district HS band directors and some Board Members at Marching Band Festival.
"We want our students to embody these six attributes and develop an understanding of which attributes they individually identify with throughout their educational journey. This developed understanding of the attributes will inform our students' academic pathway in school and beyond the classroom," explains Dr. Hill.
To effectively paint the Portrait of a Graduate, Dr. Hill's critical role in this initiative was to oversee the development of the curriculum writing and report on the progress pertaining to the implementation of the arts aligned to the six key attributes. "We have 7 to 8 meetings per week with curriculum writers and pilot teams," says Dr. Hill.
The District piloted the PreK-5 curriculum in 5 of its 75 elementary schools in December 2021. In January 2022, a diverse team of 30 curriculum writers began to develop the content for grades 6-12. "The District will implement a similar curricular model, however, with an increased focus on embedded technology, internships, community partnerships, and project-based learning," explains Dr. Hill. "In addition, the writing team is tasked with completing a pilot model for implementation in the Fall of 2022-2023. The PreK-5 writing team is in Phase II of their project and completing the needed content for the full implementation in the Fall, which will have embedded technology."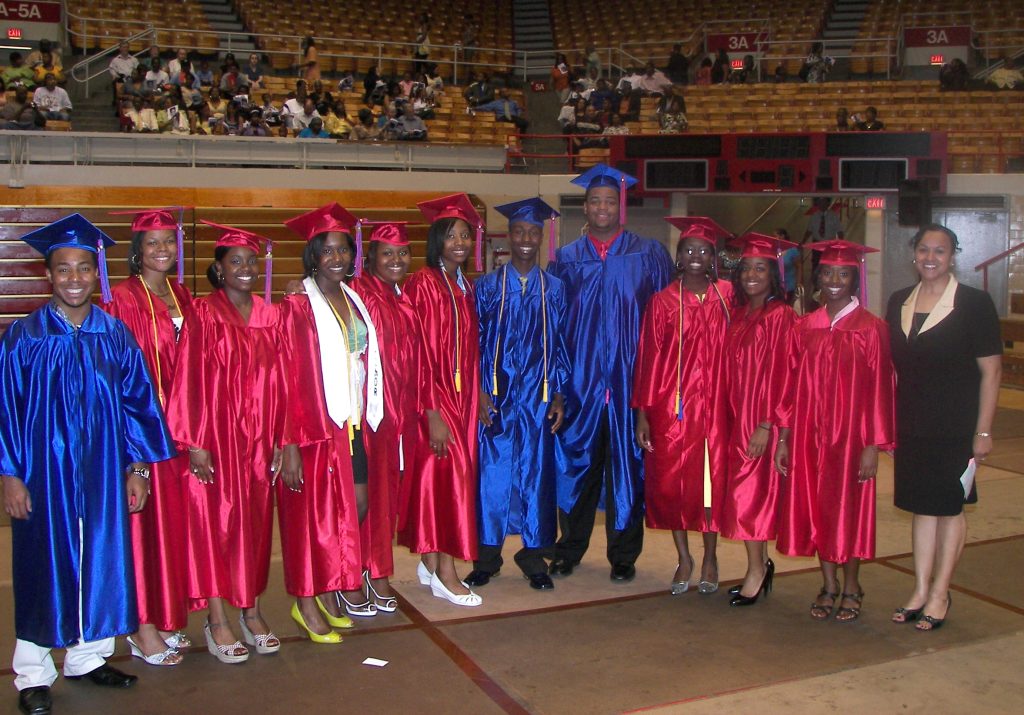 Dr. Hill with graduating choir students
Technology is 21st Century Art
That technology piece is more than just an attribute of CCS's Portrait of a Graduate; it is an art form in Dr. Hill's curriculum implementation.
"Extensions of this curricular initiative include embedded and emerging technology," shares Dr. Hill. Traditionally, in the arts curriculum, reference to technology was an entity in itself. However, with the district's strategic plan enabling equitable access, we are embedding technology into the curriculum and focusing on more profound learning experiences including technology versus the focus on technological devices."
Dr. Hill compares the technology used in the opening ceremony of the 2022 Winter Olympics to that of what she envisions for CCS students, who will thrive with the implementation of the new curriculum. "The creativity applied as integration of art and technology is exactly what I envision for students in our developing curriculum. I see these innovative learning experiences as outcomes of this initiative and real possibilities for students. How do we teach students to aim for this goal through music, dance, arts, and technology? How will students learn to do what we witnessed on a global stage – the opening Olympic show? That's not just a dream; technology is the future. We want our students to be dreamers. We want them to have the tools to reach those dreams. It is possible."
As the District continues to phase in the curriculum, Dr. Hill has ensured that some technology pieces are already in place, including 1:1 devices for all students and providing all 4th graders with the music program Soundtrap for when they begin their instrumental unit. "Technology was an elusive instructional tool in art classrooms, that thing that we never had. We had our traditional tools but little technology."
The implementation of Soundtrap has moved into the middle and high school traditional academic classes, opening up doors for students in a whole new way, allowing technology to become an art in CCS truly.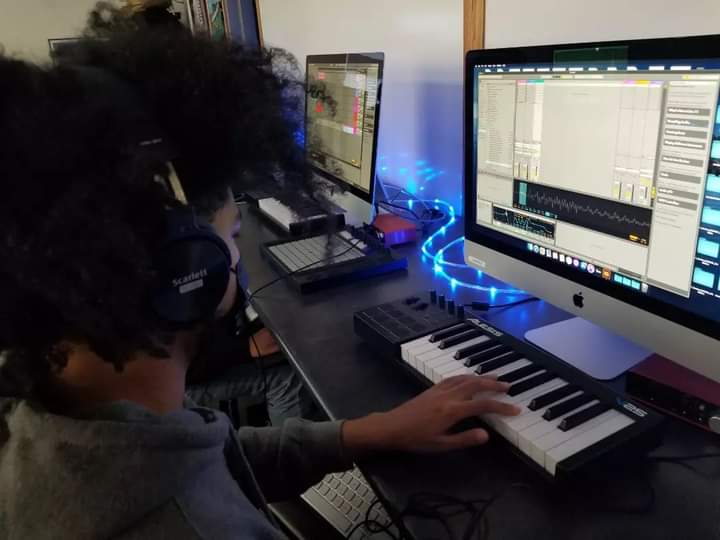 "Engagement Like We've Never Seen Before – Integration of traditional academic learning and the arts."
When you implement the arts, particularly technology, into the curriculum, the student outcome becomes more than just grades and accountability; it becomes ownership of a piece of art. Dr. Hill shares that the response was incredibly positive when Soundtrap was first implemented at the high school level" because we started seeing engagement at a level that we had never seen before."
Instead of avoiding classes, Dr. Hill states, "Now students are coming to the classroom with music they have created with their 1:1 device. They work on it at home and bring it to class to share with their teacher saying, 'Listen to this."
This engagement, this student-driven excitement, is contagious. Once one teacher sees its success, they are encouraged to share this during professional development with their peers. Dr. Hill finds herself sharing with teachers, "Volunteer to lead building PD and share how you were able to engage students in activities focused on the integration of the arts and technology.
This engagement doesn't stop in the classroom. Through Soundtrap, Dr. Hill was given the thumbs up to move ahead with implementing the development of a curriculum to support a student-led radio station.
"That is an innovative piece," she says. "The District is developing a student-led radio broadcasting station that integrates pre-K through 12 curricular pathways focused on the Portrait of a Graduate attributes. We have an entire building that will focus on that."
This innovation, this 21st-century thinking with arts leading the way through a whole-child approach, will set CCS apart from other districts as the world continues to move into a creative technological future.  "If we're going to enable students to be competitive when they leave our walls, or even while with us, we have to do this," adds Dr. Hill. "I'm excited at this point in my career to see that we've created this visibility for the arts that will help all of our students excel."