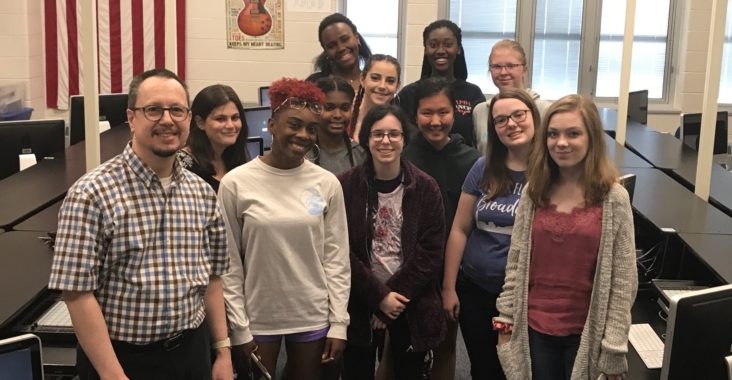 Girls Make Beats in Maryland
May 29, 2019
Girls Make Beats is a music production club at River Hill High School, in Clarksville, MD. Music Technology has been a curricular option for all students at River Hill since I began teaching there in 2007. Over the years I noticed how all Music Tech classes had very few girls in them, and I found that the same lack of girls in Music Tech classes was happening in almost all US high school music programs. Curiously, many girls in the program do go on to study Music Tech, Recording, or Audio Engineering at college, but many say they would never have known of their passion for the subject if they hadn't taken a leap of faith in signing up for the class in the first place. Recruiting and retaining girls in the program is a challenge, and we all owe it to our young women to find a way to encourage them to get involved in the class and not feel like they're in the minority.
I had the idea for Girls Make Beats when some of the girls in my classes would come back after school to work on their projects. I noticed a different dynamic amongst the girls when boys were no longer in the room dominating the conversation (as they invariably do in class). The girls were much more likely to collaborate with each other, listen to each other's work and give feedback, take risks in playing keyboards, guitars, bass, and drums, and support each other with praise and acclamation.
As a result of seeing how well the girls worked together, I suggested we start a club just for them, and they were thrilled with the idea. We chose to use Soundtrap to make beats, since the online collaboration feature allows the girls to work together even when they're not in the same physical space.
The club meets every Wednesday during a free block in the schedule, and the Music Tech lab is always open for the girls any time they would like to use it after school. I also have a studio which the girls can use to record, and often they choose to use it together during class time, so they have more opportunity to discuss their work and try out ideas.
In order to see the quality of the work which the girls are doing with Soundtrap, here are four compositions.
Intra Stella
Susan chose to experiment with the difference in mood created when altering just one note in a four-chord sequence (the Bm7 becomes a B7 during the song).
SAD
Jordan chose to portray the feelings in breaking up with someone you love and the pain giving way to relief and liberation.
Teen Movie
Margo chose to show a formulaic high school movie scene in which a girl starts to play piano, showing musical skill that others didn't know she had and so they join in with the song.
In addition to facilitating Girls Make Beats Richard McCready teaches Music Tech at River Hill High School in Clarksville, MD. Mr. McCready was selected TI:ME Teacher of the Year in 2013 and continues to inspire meaningful music technology to each incoming class.