A Time-Saving Teaching Tool for a Music Professional
February 23, 2022
Soundtrap a time-saving teaching tool.
For a professional musician like Derrick Skye, time is a precious commodity and a time-saving teaching tool is critical for class collaboration. Derrick is a composer, conductor, musician, and educator based in Los Angeles integrating musical practices from cultures around the world in his work with classical music communities. When he's not busy as the artistic director of the chamber ensemble and arts organization Bridge to Everywhere, teaching artists for the Los Angeles Philharmonic or a myriad of other professional projects, he finds time once a week to teach students at Mount Saint Mary's University (MSMU) as an adjunct professor.
Last year when his MSMU live performance Bridge Orchestra class experienced pandemic-related restrictions he switched gears using the university's Soundtrap account to produce exciting and educational film score arrangements with his students. "The students couldn't meet on campus," recalls Skye. "They used Soundtrap to collaborate creating music for short scenes from the film." With the absence of reliable and available Digital Audio Workstations (DAWs) for his remote students, Soundtrap's online platform provided a perfect time-saving solution. "For the students, it was a big way to tie everybody together so that they could record and get stuff going," he says.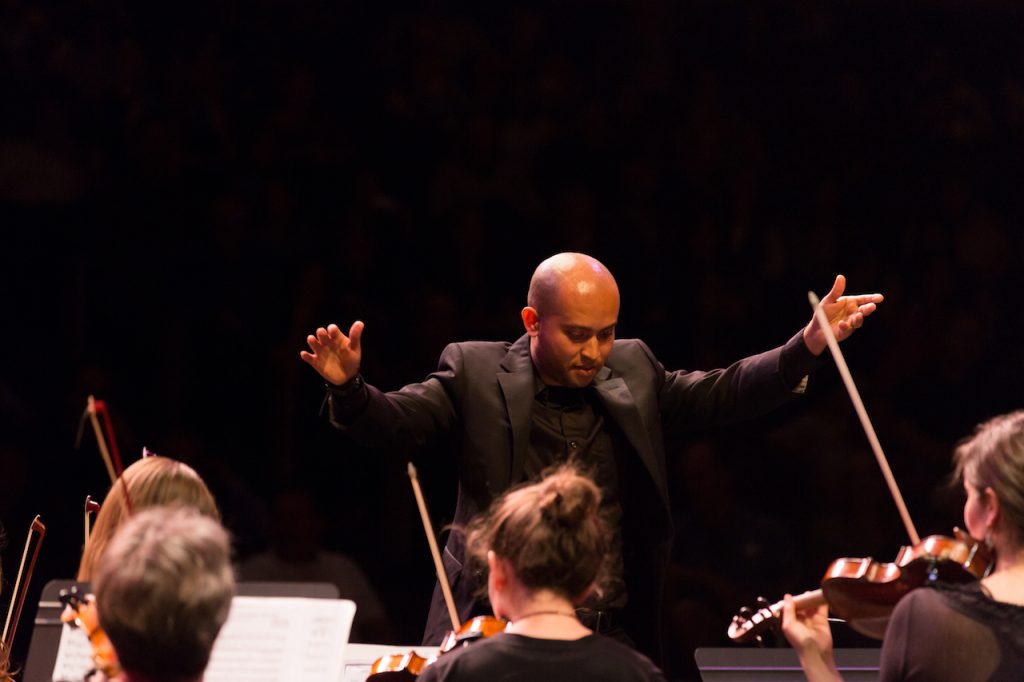 The Project Setup Using Soundtrap
Skye first introduced the project with a sample and then went into the basics of Soundtrap functionalities. "There was a good amount of tutorial help and FAQ available," adds Skye mentioning how it helped facilitate the process. Many of his students were already familiar with Logic, Cubase, and other programs and found the functionality of Soundtrap easy to understand and learn. The students then went on YouTube to find small film clips that captured their curiosity. "I had the kids choose scenes from films. They would get that footage, download it and then simply eliminate the audio track. Then they would rescore the scene with their particular music," says Skye.
Overall, the collaborative nature of the Soundtrap experience stood out to Skye. "I think that was the biggest winner because they could collaborate while not being in the same physical space," he says. "That was the selling point to me – the collaborative aspect of making music. Without it, the only other way to collaborate making music is to simply be in person. Using that program online was super amazing."
The Film Score Student Process
Skye describes how a student chose a scene with a boat and wonderful lanterns lifting off of the water. Others added violin and piano to dramatic film moments that emotionally spoke to them. Through it all, the students collaborated, working together to record vocals and instrumentation. Some students even handed off Soundtrap recordings to other classmates who would merge the recording to additional tracks in Logic Pro.
By the end of the 10-week class, all students had successfully produced original film score audio that synched to the visual scenes. It culminated in a class-wide share. "The old audio had been pulled out [and the new] married to the video using iMovie. We all got together in a big group Zoom to share everybody's projects online," adds Skye.
Looking Ahead and Saving Time
With MSMU now back to in-person, the Bridge Orchestra class can return to its live ensemble performance makeup, but Skye remains intrigued by the possibilities that emerged from last year's Soundtrap project. He can imagine using the setup for future projects involving musicians from different locals collaborating on projects with his MSMU students. He also envisions more professionals entering education if projects could be successfully conducted remotely using online recording tools. "It lays the groundwork to open the possibility of students being able to collaborate with or learn from people who are active in the professional field," he says.
Skye's professional background provides an additional benefit to the all-female environment at MSMU. His knowledge of the professional scene exposes them to real-world practices and career opportunities available for women in the field. But according to Skye, one of the biggest inhibitors to outside professionals becoming more involved is a lack of time.
"Time is the craziest thing that everybody on the planet shares. Everyone always feels like there's not enough time," says Skye. Diving deeper into his insights, perhaps by using a time-saving teaching tool such as Soundtrap, the sky is truly the limit for more music professionals becoming involved in the education process.
Learn more about Derrick Skye, whose music The Los Angeles Times described as "something to savor" and "enormously fun to listen to." at www.derrickskye.com/