Soundtrap Helps Kindergartner Bring Her Words to Life
November 13, 2020
Marlee brings up Ghana any chance she gets. She lived there for the first four years of her life―and she's only five now―so it makes sense. She is a blossoming literacy learner who knows her letter sounds, has almost all her Concepts About Print (CAP) skills, and can retell a story. Each day, her English grows stronger and stronger.
We can't leave her charming, exuberant, caring personality out of this conversation either. When someone walks into the room, Marlee greets them first. When a new book appears in the library, she's the first to dig in. When we learn something new, Marlee is there, bouncing on her knees, letting every word soak in. This little girl has an energy, a passion, and a yearning to live life to the fullest that is not typically found in a five-year-old.
Marlee is far exceeding the expected skills for reading and writing at the beginning of kindergarten, but her current ability to write and draw doesn't match her ability to tell a story and describe her perspective on life. This is a gap we've worked on closing.
That's where Soundtrap comes in.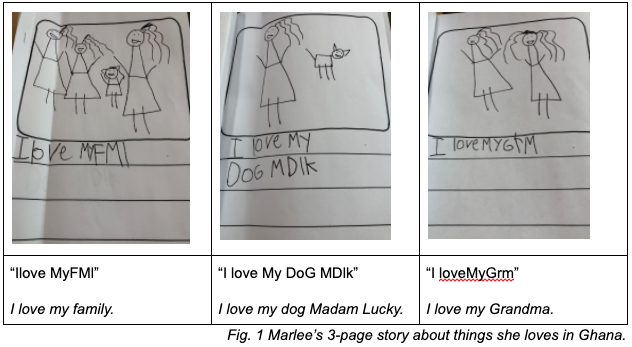 Marlee took about seven minutes to write a three-page story summarizing the things she loves in Ghana. Again, her writing and drawing skills surpass expectations for this point in the year but you could tell that this was not all she had to say on this topic. After Marlee wrote about the things she loves in Ghana, I introduced her to Soundtrap's online recording studio and let her do the rest! I got her set up and told her to come to find me when she felt like she was done describing what she loves about Ghana.
In exactly two minutes, Marlee expressed her love for Ghana, and really, her passion for life. She spoke a total of 183 words. This is more than 13 times what she was able to express in written language! Not only were we able to capture Marlee's true spirit and the unique essence of a "five-year-old who is learning English vocabulary and grammar" in an audio recording, but I was also then able to use Soundtrap's transcription tool to show Marlee what she had said as a written text. The ease with which I was able to complete this task allowed me to encourage Marlee as a literacy learner, use very little time in the teaching day, and capture my learner's true self all in just a few minutes.
Marlee sat with me, chatting excitedly as we waited a minute for the transcription to finish. She told me how much she enjoys the chance to use "digital stuff" at school. She talked about the story we had recorded earlier that day on Soundtrap, describing it as "so fun," and asked if we could share it with PreK because they would probably like that story too!
Suddenly, the transcription popped up on our screen. In a split second, Marlee became speechless…and trust me, that doesn't happen often. She looked at the typed out words in awe.
"That's what I said? All that?" she asked, looking to me trying to comprehend.
When I explained how Soundtrap took the words she said and wrote them, she looked back to the screen with a calm pride.
While emergent writing is to be celebrated and is definitely a critical piece of every learner's development, there is also room for moments of capturing the true-to-them stories that every learner has to tell. Marlee's story started as a love story for the country she loves and misses so much and quickly morphed into a story of determination and perseverance.
"Never give up. By Marlee. Love you!" This message of hope is how she chose to end the recording. She expressed the importance of her own voice and a message of love. The power this five-year-old felt in telling her story, knowing she would be able to listen to and share it with her friends and family is incredible.
The moment I was able to capture as her teacher provided me with a snapshot of who Marlee is as a learner, the strength in her oral vocabulary, her passions, what connections she is making to what we are doing as a class, and where she can still grow. We will listen to her recording again together, talk about how to compose our thoughts, how to phrase things to really capture what we mean, and how to articulate in order to be best understood. This recording is a wonderful teaching moment but more importantly, a gift. A gift I can't wait to share with her family, and something we will have to look back on as the year progresses and Marlee continues to flourish as a learner, thinker, and person.
About the author
Becca Masse is a kindergarten teacher in Auburn, Maine with a passion for early literacy learning. After graduating from the University of Maine at Farmington with her bachelor's in Early Childhood Education, she packed her bags and moved to NYC to complete her masters in literacy education graduating from Teachers College, Columbia University as a literacy specialist. Now back in Maine, she works hard to nurture the whole child encouraging all learners to embrace the identity of readers, writers, problem solvers, and thinkers.