How LAUSD Students Became Jingle-Makers and More
June 29, 2021
Justin Polk, a music educator at Arleta High School in Los Angeles Unified School District (LAUSD Students), reacted to virtual teaching in a forward-thinking way. He wasn't satisfied with a simple pivot to makeshift online teaching―instead, he saw an opportunity to think outside the box and experiment in his teaching with the music business in mind. Accustomed to teaching a diverse range of music students, from those refining their instrumentation in band class to those taking music as a general elective, he realized that a collaborative recording tool would be necessary to address all needs. He took advantage of LAUSD's Soundtrap pilot, using the summer of 2020 to dive in and learn how to prepare for projects in the fall.
Working outside the traditional brick-and-mortar classroom, Polk reshaped his curriculum virtually. He decided to take the time to familiarize the students with different music fields and then develop projects off that knowledge. Every week he chose a particular music profession, such as Foley recording or film scoring, and explored the practical job opportunities found in music.
A Catchy Jingle Leads to a Discovery with LAUSD Students
One day while listening to the radio in his car, Polk noticed a pattern with the jingles and promo spots he was hearing, and an idea popped into his head. "We should do something like this. Everything can be broken down and related to traditional music standards, and the [spots] are using the pentatonic scale," he thought. He used the scales approach to demonstrate melodies produced in the jingles and the students loved it.
Polk expanded the concept after studying a jingle writer on YouTube who explained the different forms―including examples of "shotgun" and "donut" jingles―and he then incorporated them into his teaching. "We learned the actual structure behind making it first, and then we used those examples to drive our ideas," he explains. He told the students that traditional songs like Itsy Bitsy Spider have the same pentatonic notes found in the jingles. He coached the students to first come up with the words and then add the musical notes to the jingle.
A Student Jingle Example by Jose Pichardo
Students Take Initiative
All of the students were excited to work on the projects, and some truly blossomed. Jose, a student who has aspirations of music production after high school, was one of those individuals: "Mr. Polk showed us a video on different types of jingles and making a song from an existing song using the same notes. I did an original song promoting Soundtrap as well as others."
Jose took the initiative to learn Soundtrap on his own after discovering it on his school's LMS. He gained an understanding independently and in Mr. Polk's class, expanding his recording skills and playing with beats. Some of his projects even landed on SoundCloud and YouTube. Throughout the process, his teacher was available virtually. "We had students one-on-one with breakout sessions. Although you can use Zoom to share a screen, Soundtrap allowed me to go physically inside and edit a bar or revert it. From a teacher-student standpoint, it was amazing," says Polk.
A Student Promo Example Featuring Soundtrap by Jose Pichardo
Additional Projects
Polk's dedication to the creative process went well beyond jingles. As he introduced the music industry professions, Soundtrap fueled more and more creation in his classes. According to Polk, students sometimes fail to realize just how much music they are experiencing in their daily lives. Whether it's on TV or driving around in a car, students are constantly influenced by music. "It's always around," proclaimed Polk to his students. "Subconsciously, you were trained to understand music since you were little."
He recognizes part of his job is as a facilitator to new knowledge and finding a way to make it relatable. He explores all areas of music creation, including mash-ups on TikTok, to motivate his students. Polk adds, "We are mixing up songs and making them our own, writing descriptions about what kind of video it is and what you put with the sound―just finding a way to make it relatable but also educational."
While it's often easier to get students with less pre-existing music knowledge interested in tech approaches, Polk used Soundtrap recording with his traditional instrumental learners, too. "Even in Band, we used Soundtrap," added Polk. "We did a virtual ensemble and used Soundtrap to sync up all the audio. We balanced, exported it, and attached it to the video. Even for [those students], we made it pretty cool."
A Student Film Score Example by Antony Ramirez
Applying Analogy to Future Production
Polk uses a sports analogy in describing music learning: "It's like teaching a kid how to play golf versus basketball," he says. "One is instant gratification. You see a ball go through a hoop, and you think you're making progress. But in golf, you [struggle at it] for a while. Learning an instrument is like golf and learning music production is more like basketball." The effects of this observation became clear using Soundtrap. Having loops, dragging, dropping, and making something within minutes brought a sense of accomplishment that often takes longer on an instrument. Both are important, but success is often experienced earlier and easier from digital production tools, he explains.
Polk's creative efforts led the school to make music production part of the curriculum moving ahead. "Aside from Choir and Band, we want to offer music tech as a third balancing factor of our music department," says Polk. There is already a visual and performing arts department in the school, but Polk has begun to use different school funding lines to build a dedicated studio. "We've purchased mini keyboards, microphones, sound padding, and the next step hopefully is to get computers bigger than a Chromebook," he says, smiling.
About Justin Polk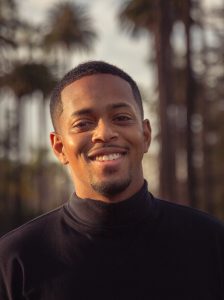 Justin Polk currently heads the Instrumental Music Department at Arleta High School in Los Angeles Unified School District. His musical background and professional accolades are a reflection of the educators that paved his path into music academia.
Justin holds a Bachelor's Degree in Music Education from Southern University and A&M College at Baton Rouge, Louisiana and relocated to Los Angeles to begin his career. Aside from being a full-time educator, Justin performs as a percussionist with Solange Knowles and has directed bands for entertainment industry projects with Nike, Travis Scott, D. Smoke, and more.