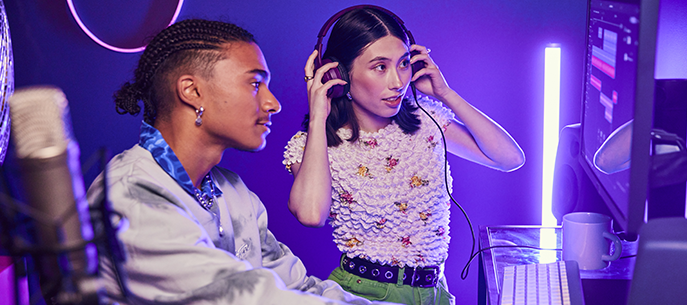 Podcast Script 101: Everything Students Need to Know
April 6, 2023
Students love podcasts because they're easy to enjoy. Whether they're on their way home from school or hanging out on the weekends, podcasts are fun, educational talks that students can listen to at any time. So why not bring the magic of podcasting to your classroom? It all begins with the podcast script.
Creating podcasts in the classroom is an exciting way for students to collaborate with their peers and express their opinions. When educators give students the tools to create their own podcasts, it empowers them to speak their truth. Today, we'll explain how you can guide your students through the creation of the perfect podcast script, so they can let their voices be heard! 
Why Should Your Students Learn to Write a Podcast Script?
These days, many students listen to podcasts for entertainment or to educate themselves about their favorite topics. While most educators know that podcasts are a highly effective and accessible tool to improve student learning, creating podcasts in the classroom opens a new realm of possibilities.
Whether you teach Language Arts, History, or a STEM subject, podcasts have a practical application in your classroom. However, every good podcast starts with a well-crafted script. Writing podcast scripts teaches students how to construct an outline and present information clearly and concisely. These valuable skills will support your student's academic efforts in other classes and carry them into adulthood.
The Different Types of Podcast Scripts
Whether your students will work alone or as a group, there are plenty of ways your class can use the power of podcasts to create, collaborate, and connect! There are several different types of podcast scripts that your students can use to express their ideas, such as:
Scripted fiction.

These podcast scripts typically tell a single story in a manner that resembles a TV show or an audiobook.
Interview.

Interview-style podcasts will have one or two hosts that conduct interviews with experts or interesting people.
Monologue

. When a single person is talking, it is considered a monologue podcast script. The person speaking may be sharing information or telling a story.
Nonfiction storytelling.

These podcasts tell real-life stories. Sometimes they contain interviews with people that were involved directly in the events or have expert knowledge related to the topic.

Conversational.

One of the most popular forms of podcast scripts is conversational, in which a panel of hosts records themselves speaking about a specific topic. This could revolve around pop culture, science, history, and more.
Podcasts are all about telling stories, sharing information, and connecting with others. Now that we've covered the most common types of podcasts, it's time to go over ways your class can get started by creating a stellar podcast script!
4 Tips for Writing a Strong Podcast Script
Writing a podcast script isn't as complicated as your students may think. These simple tips will help them lay the foundation for a fantastic podcast on any subject.
1. Podcast Intro 
If you've ever listened to a podcast before, you've probably noticed that your favorite podcasts have an intro and a memorable jingle. When you teach students how to create a podcast script, they should begin with a short introduction stating their name and the podcast's topic. They can even use Soundtrap to create their own theme music! 
2. Guest Introductions
Creating is more exciting with friends! Bring fun to your classroom by letting students work on their podcasts as a group. After introducing the podcast by its title or theme, the designated host should also introduce their peers, who may contribute to the project as an interviewee or co-hosts.
3. Segue
Most podcast scripts have several parts, so students must plan their transitions to ensure that the entire podcast flows smoothly. Students may include sound effects or a spoken phrase as a segue into the next section of their podcast script.
4. Podcast Outro
Make sure your students finish strong with their outro. Each podcast script should include a summary to recap the entire audience. They can also thank the audience for listening and repeat their jingle to wrap up the podcast.
Create Student Podcasts with Soundtrap
So, you're probably wondering how you will incorporate podcasting into your lesson plans. We've got you covered! Soundtrap makes it easier than ever for students to collaborate and create amazing podcasts with the right podcast script. These exciting lesson plans let your students put their podcast scripts to good use.
What's in Your News Podcast Script
Talking about current events is a great way to foster a sense of community in the classroom while encouraging students to connect with one another. Our What's in Your News lesson plan is an excellent way for students to develop their deep listening skills and consider other points of view.
Get started by opening a Soundtrap project and add the title "What's in Your News." Then, you'll record a voice track about current events your students may be interested in. Encourage your class to think creatively about their podcast script with prompts such as the following:
"What's in my news?"

This open-ended prompt will help students think about current events they see on social media or the news.

"My thoughts, feelings, and questions about current events are…."

Allow students to fill in the blanks. For this prompt, it may be helpful to include an example.

"Given my identity and life experiences, I carry these thoughts and feelings by…."

When students respond to this prompt, ensure they know your classroom is a safe place to express their thoughts and feelings.

"Even though these events cause me to feel big emotions, I can take action by…."

Encourage your students to think outside the box about new ways to make positive changes in the world.
Your students will use their answers to create their podcast scripts. Once this part of the project is complete, you can assign the project to groups of four or five students. Each student will perform their portion of the podcast script and tie it all together with sound effects for a polished finished project!
Podcasts About Mental Illness
Podcasts are an excellent way to inform audiences about topics of interest and create valuable social connections with others. People from all walks of life are affected by mental illness, so talking about these issues in the classroom opens the door to life-changing discussions. Our Podcasts About Mental Illness lesson plan presents the perfect opportunity for students to learn more about interviewing experts.
Once you introduce the class to this lesson plan, your students will begin by researching mental illnesses or a related topic that interests them. Now, your students are ready to begin connecting with mental health experts and others who may have valuable input on their chosen subject matter.
When students have gathered enough information, they'll draft their podcast script using research and interviews. Then, your students are ready to record their podcasts in Soundtrap. Encourage your students to add some pizzazz to their podcasts by incorporating music and sound clips from our loop library! 
If your students are comfortable sharing their creations, they can publish their podcasts on social media or the school website.
The World Language Podcast Script
Everybody knows that the best way to learn a new language is to speak it aloud, so why not bring this conversation to your classroom with our World Language Podcast lesson plan? Speaking in a foreign language will improve your student's ability to remember the language and can even improve their performance in other academic subjects.
Give your students a quick refresher on the foreign language topics they're currently learning, including specific nouns, verbs, and conjugations. Make sure you assign a lesson topic that's familiar to your students because it'll be much easier for them to create their podcast scripts.
Now, your students are ready to begin the project! Divide the class into groups of three or four students and ask them to create a podcast script about events in a foreign-language-speaking country. Let your students get creative and choose their own topics.
Lastly, students can jump into the Soundtrap Studio and create their podcasts. You can even let students share their creations with the entire class. And remember, you can adapt this podcast lesson plan to any academic subject or grade level as long as your students are ready to get creative.
Create Podcast Scripts with Soundtrap
Soundtrap for Education is the ultimate audio production platform for students and teachers to create and edit audio recordings. Pupils and educators can easily tap into their artistic side with this intuitive audio platform that facilitates a creative learning environment for every subject, regardless of the student's age or experience level.
With Soundtrap for Education, students and teachers can collaborate with advanced cloud technology at any time or place. In addition, the platform comes equipped with a robust resource portal, with tutorials, an external curriculum, and lesson plans to complete the educational experience. And to ensure privacy, teachers can ensure that student collaboration is safe and secure with invite-only groups in Soundtrap's versatile digital environment. 
If you're ready to enhance your educational experience with an intuitive cloud-based audio production platform, get started today with Soundtrap for Education! And be sure to share this article with other teachers in your network to help spread the joy of learning through sound.