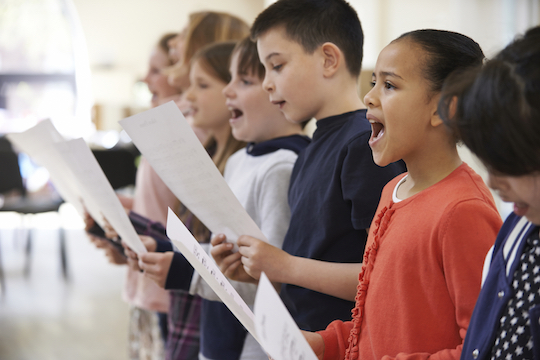 Students turn poetry into songs and rap battles
February 28, 2017
We believe in the power of words to inspire, educate, and create change. That's why Soundtrap is making it easier for students to turn their poetry into songs and rap battles.
Classroom description
Angola High School, a public school in the Metropolitan School District of Steuben county, Indiana – between Chicago and Detroit – is a 1:1 Chromebook school, which serves nearly 1,000 students.
Chantell Manahan is an English teacher, Google Educator, Technology Leadership Certified by CIESC and Tech Mentor at Angola High School. She is a pioneer when it comes to finding new education technology and creating new ways of teaching. In her blog she regularly publicizes how she is using apps like Animoto, Nearpod, Padlet, Soundtrap etc.
As part of her course, the students are asked to examine universal themes in music and poetry and analyze song lyrics for poetic conventions. In a later stage of the course, the class collaboratively turns their own original poetry into songs using Soundtrap.
The challenge
When an educator wants to use audio recording as a teaching tool (for music education, making podcasts etc), there have been several problems. Most audio recording tools e.g. are quite complicated to use; they are made by studio engineers for studio engineers. The user interfaces are prohibitive, and therefore effectively stopping the creative process. Software downloads and specific hardware requirements are often needed, causing extra workloads for teachers and school administration. Collaboration has been complicated or only possible off-line.
New technology – new opportunities
The availability of the online studio Soundtrap with its user-friendly interface and collaboration features (being web-based and having an integrated video chat) facilitates new types of group assignments, like songwriting: writing poems and then turning them into songs. The collaboration features are not only enabling the students to interact and co-create, they also facilitate coaching by teacher and classmates.
Chantell Manahan found Soundtrap last year when she actively began looking for ways to use new technology for modification and redefinition of her standard lesson plans.
In her own words, Chantell Manahan chose Soundtrap to create the songs because:
 It is user-friendly (you don't need to be a professional musician to make it work)
 It is web-based and works on any device
 It allows for collaboration, so more than one student can work on the song at the same time!
Students can sign up/log in with Google
The finished product is easily shared through email, Twitter, Facebook, and more.
Since Soundtrap is a cloud-based app, it is therefore a convenient audio recording and collaboration complement to other Chrome apps.
Soundtrap was initially developed as a recording app for musicians, songwriters, artists and music teachers, but many teachers of subjects other than music, like Chantell Manahan, have discovered that they also could use Soundtrap in order to combine music – or any type of audio recording – with subjects such as English and other languages, and drama, or as a practical tool for producing podcasts.
Chantell is convinced that her students' enthusiasm for the Soundtrap supported assignments proves that her choice of edtech was successful.