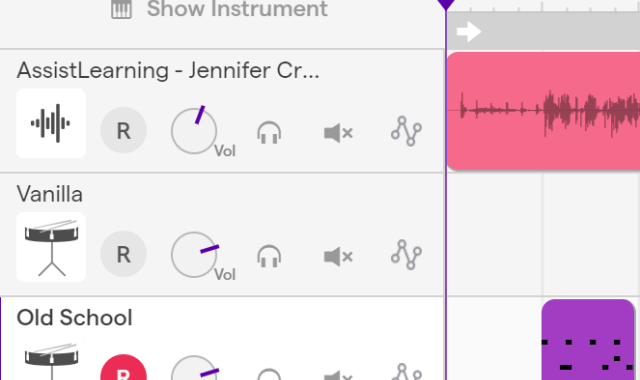 Thoughts, Views & Predictions On Soundtrap
August 24, 2018
STEAM schools are popping up left and right. In fact, many STEM schools are now incorporating the "A" into their curriculum and rebranding themselves as STEAM. In all fairness, they should as statistics show that the arts play a huge roll in our lives and help make up the whole child. With this being said, creation of the arts comes in many shapes and forms. One of my favorites is music and audio production. For those of you podcasters, music producers, writers, composers, teachers, or anyone interested in audio creation, Soundtrap is the perfect tool to handle all of these needs. Not only that, it is about to be used by educators and content creators like never before!
For those of you who do not know (or haven't figured it out yet), Soundtrap is an all in one virtual music studio that can interface with USB instruments, microphones, and USB mixers. The best way to describe it is as follows: If Garageband and Audacity had a baby, and then that baby grew up, met Google Docs, and if they had a baby together, they would name it Soundtrap!
There is a track timeline equipped with pan tools, mute track function, and a whole load of other things you can do within the tracks.
In addition, there are also tools to create your own music, loops, and tools that are very reminiscent of Garageband and Audacity. There's also a collaborate feature which allows for podcasts, music creation, voice-overs, and all endless EDU possibilities!
My upcoming episodes of The EdTech Bites Podcast will be recorded and edited solely using Soundtrap and not Audacity, which is my go-to for podcast editing. I'm going all in with this tool and I plan on utilizing all of the bells and whistles that this amazing program has to offer. I've already begun importing audio clips and recording segments such as my call to action using my Audio Technica 2100 microphone and Soundtrap. I must say that the audio that I have recorded and edited is professional and up to par with what I normally get from Audacity. There is one piece that Soundtrap has to offer that none of the others do, it's completely cloud-based. This is an absolute game changer for the industry. The fact that I can begin on my work laptop, continue on my home desktop, and upload other audio clips from my son's Chromebook, makes Soundtrap second-to-none in my book. In addition, I can send my audio file to my guest beforehand and they can then record their segment on the same cloud-based file without having to be on the same machine, in the same room, or even worse, having to send audio files back and forth. So here's what I'm getting to…
Soundtrap WILL revolutionize how creators create and collaborate. Without a doubt, many veteran podcasters and up and coming podcasters WILL choose Soundtrap as their means to record, produce and collaborate. If you listened to my latest podcast episode with Dr. Monica Burns, I made a prediction in that episode that I still believe because I will help make that prediction true. I predicted that Soundtrap WILL become the next big edtech tool, just like Flipgrid was and still is for 2018. The educator community with a HUGE boost from folks like Claudio Zavala Jr. and his #singasong movement catapulted Flipgrid beyond what anyone could have imagined and even birthed the #FlipGridFever. With this being said, here is what the I am making the "unofficial" hashtag for Soundtrap, #Soundtrapitis! (Get it?! Flipgrid has a Fever and Soundtrap has an itis?! Eh, eh!) I have caught #Soundtrapitis and there is no known cure yet. Not only have I caught this, it is contagious and will cause a major disruption to the educator community. But I'm not alone, at some point, someone in your district, building, or hallway will eventually catch it. My question to you is this: When #Soundtrapitis finally hits you in your classroom, home studio, or makerspace, what will you do with it?
About the Author: Gabriel Carrillo, Instructional Technology Specialist from San Antonio, Texas. Mr. Carrillo is also the creator and host of the Edtech Bites Podcast.