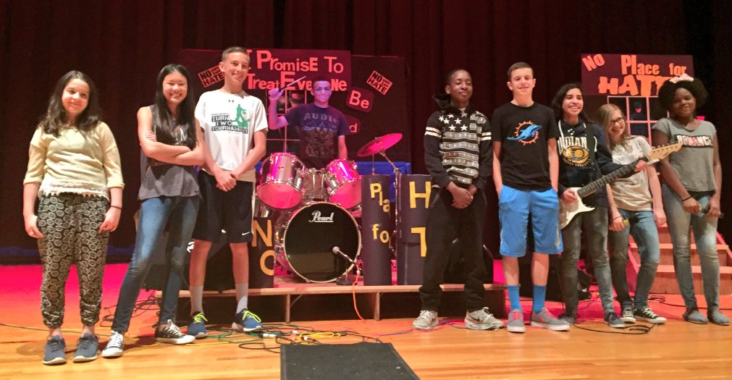 No Place 4 Hate at York Area School in Pennsylvania
July 3, 2017
Dennis Albertson a teacher at York Area School District crossed my radar recently while I was preparing for #ISTE17. I took note of his session: Chrome App Smashing to Create Chromebook Generated Videos that featured Soundtrap. After an email conversation I learned about the No Place 4 Hate project.
The No Place 4 Hate project spans 6th-8th grades and has a unique story of evolution. This project ties together students, tough topics and relies heavily on Soundtrap as well as WeVideo for audio/video capture and execution.  As soon as I watched their produced video (see above!), I knew I wanted to reach out to West York, gather the necessary information and share it with other educators asap! It was too amazing not to.
Project: The No Place 4 Hate project started during the West York Area School District Middle School's WIN period. This is a time during the school day that groups of students with similar academic needs met together. Mr. Dennis Albertson, 14-year veteran Computer Education teacher, had the Tech Crew WIN Group that was assigned to create a picture video for the schools' No Place 4 Hate initiative.That was just the beginning! Driven by student interest, the project swelled to a full-on production. Students planned and storyboarded the project as well as composed the music & lyrics. In addition to capturing, editing and rendering the music video, the students also designed the set and lighting for a multimedia performance for their peers.
Meredith: What motivated you to organize this student project?
Mr. Albertson: The assignment from the No Place 4 Hate school committee was simple: create a music video of our York Area School's activities during the WIN period by putting together pictures and music to create a music video. I had six students assigned during that period but other students soon became interested and involved. The project evolved from a straightforward music video to a full blown stage production. My motivation to abandon the original plan and go rogue was simple: the students wanted to do it. Projects like this give voice to students who may not have an opportunity normally. Their excitement generated from autonomy, propelled the project forward. My job became one of the coach.
Meredith: How did the students react to the project?
Mr. Albertson: Some of my non-WIN students had heard about this No Place 4 Hate video that was underway and wanted to be involved.  They even showcased their musical skills they wanted to contribute on a guitar I keep in my classroom. Other students reached out and wanted to write lyrics. I soon realized there would have to be adjustments to the original project plan and many technology applications would be at play. App smashing, here we come!
Meredith:Did you encounter any roadblocks? If so, how did you overcome them?
Mr. Albertson: After the additional, non-WIN, students joined the project, we faced the roadblock of scheduling between three grade spans and various schedules. Sometimes we met at lunch and before/after school. The music creation piece was easier because of the cloud-based, collaborative nature of Soundtrap. The video creation piece was easier because of the cloud-based, collaborative nature of WeVideo. Both applications aided in the difficult scheduling. Students did not have to always be in the same physical space as each other to collaborate and contribute.
Meredith: How did the other teachers in your district react to this outside-of-the-box activity?
Mr. Albertson: The other the teachers in the building were very supportive. They "loaned" me students from their WIN groups when I faced scheduling problems. Also, I have done out-of-the-box projects before in different areas so my request, though different, was not unusual.
Meredith: How did the technology (Soundtrap) aid with completion and success of these student projects?
Mr. Albertson: Soundtrap is the backbone of the project. It allowed us to create, record, layer and edit the music. We relied heavily on the flexibility to store our files in the cloud and access from any device, anywhere.  Because we used cloud based collaborative apps, students were able to add new material to the lyrics, audio, and video at home. I would receive emails daily asking me check out the changes.  The NP4H live project was born and grew with a life of it's own.
Meredith: Did using Soundtrap inspire you to attempt other outside-the-box student project using collaborative audio recording?
Mr. Albertson: Yes! We have already started the production of a new video for our Not Knowing Yet initiative for the 2017-2018 school year. The idea of this initiative is to nurture a positive environment and growth mindset. We will be using Soundtrap and WeVideo as our main tools again along with the array of Chrome apps and extensions for planning, organizing, and writing.The music is already in the can thanks to Soundtrap. During our most recent collaboration session, it was decided to create more of a We Are the World feel to the video. This project will include a diverse collection of students singing and speaking small parts of a song. Re-recording and remixing  will be first on the agenda when school starts back up in the fall.