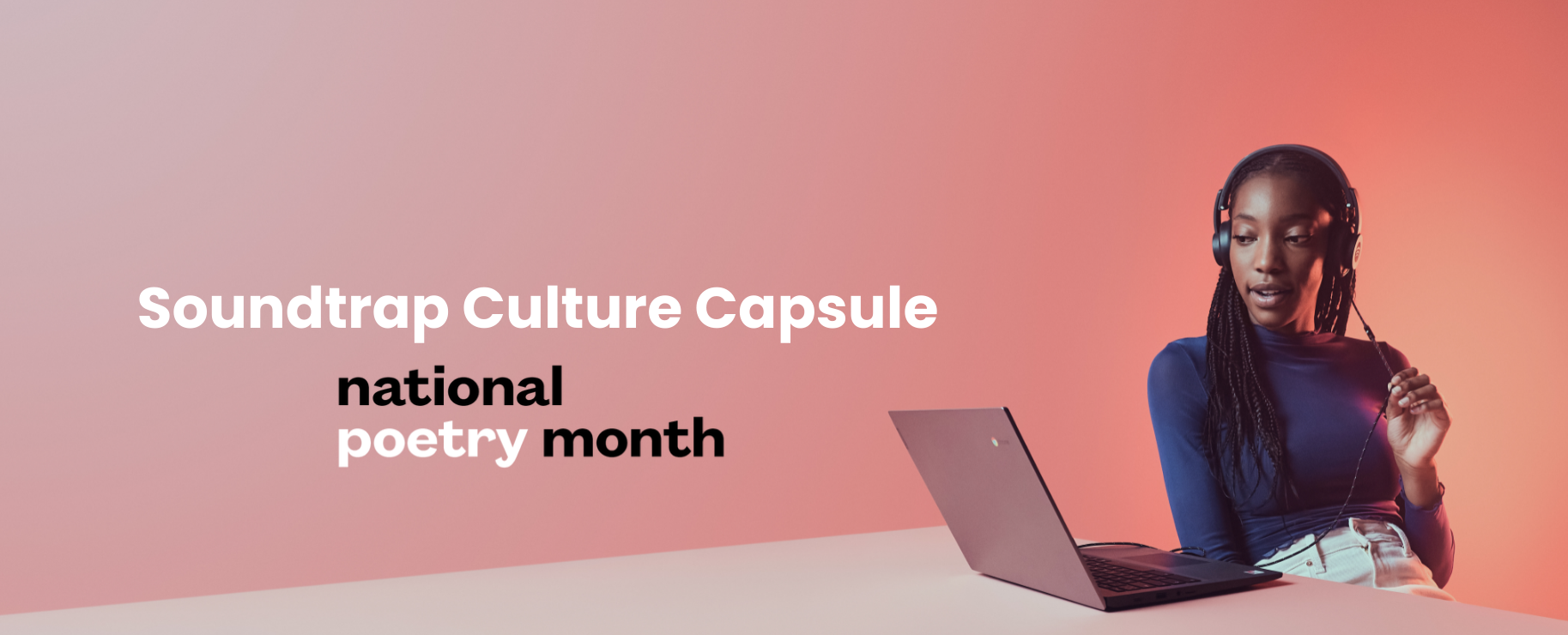 Soundtrap Culture Capsule: National Poetry Month
March 28, 2022
Every year, National Poetry Month provides us with an opportunity to slow down and celebrate the power of the spoken and written word. It is a special occasion that reminds us of the integral role of poets and poetry in our cultures. The Soundtrap team is excited to share our latest activities to help you and your students think creatively as you leverage Soundtrap for this year's Poetry Month. We hope you enjoy these activities. Feel free to adapt them, and as always, share them broadly with your networks!
Poetry Month Student Activities
Activity Option #1: Social Justice Poetry (6-12th Grade)
Step 1. Choose from one of the following poems from this list:
Step 2. Answer these reflection questions in the Soundtrap Studio:
What do you think is the author's purpose in sharing this poem?
What current social and political issues are most important? Why?
What parts of your identity, if any, relate to that issue? How?
What emotions do you have related to the issues at hand? How do they make you feel?
Activity Option #2: Book Scavenger Hunt Poetry w/ Amanda Gorman (3rd-12th Grade)
Step 1. Watch the Book Scavenger instructions from Amanda Gorman (Video Link – 6 Mins):
Amanda Gorman will provide your students with instructions (watch independently or whole class)
Step 2. Have students grab a book! It can be their favorite book, a dictionary, a graphic novel—anything they have works for this exercise:
Students will then pick 4-6 pages from their book at random (the number of pages they use will also be the number of words you find)
On each page, students find a word that they like and write it down on a separate sheet of paper (Repeat the previous step, creating a running list of the words they find on their scavenger hunt)
Step 3. Grab a scrap paper and write your poem:
Have students take their words and try to connect them into a cohesive poem. Tell them that it might take them a few tries to find a combination that they like, but don't worry – this is just an exercise to help them get started
Step 4. Record your poem using Soundtrap:
Add loops and different sound elements to bring it to life!
Download as .mp3 and share with your loved ones ❤️
These activities were adapted from 826 Digital (full lessons can be found here & here).
Activity Option #3: Redacted Poem Activity
Step 1. Introduce students to Redacted poetry:
Consider sharing this video or this blog post about Austin Kleon and how he started creating redacted poetry. Then have students create their own redacted poetry. They can use newspapers and books. The New York Times has an interactive website with their articles, or you can add text to a Jamboard, or students can add their own text like song lyrics in this website.
Step 2. Have students create Redacted poetry on Soundtrap:
Open a project in Soundtrap and select Podcast template
Select "Add New Track" and record the entire text- a poem, page of a book, part of a news article, or even a song lyric
Select the Transcript option to transcribe this track into text
Delete the text in the transcript to turn it into a redacted poem
Arrange the audio to make it sound more fluid and poetic
Step 3. Combine Audio and Visual for the project:
Add Soundtrap audio to Adobe Spark video or Microsoft Sway page with redacted poetry images
Additional Poetry Month Teacher Resources