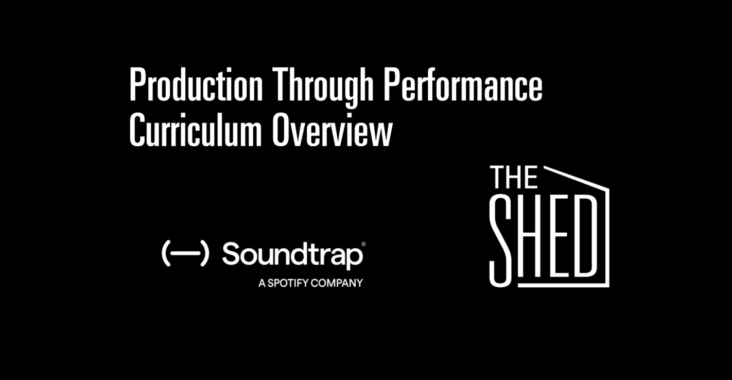 New 'Production Through Performance' Curriculum
February 20, 2019
Shedthemusic's Production Through Performance curriculum is a new take on the music technology class. The student-centered course uses a flipped classroom philosophy to deliver an exciting method of learning how to create pop music using the piano keyboard as the primary instrument. There are twenty-eight projects that are separated into six units covering the basics of how to write and record drum beats, bass lines, chordal parts, and melodies. To scaffold success, each compositional element is broken down into simple rules that students follow resulting in a final product that sounds like it could be on the radio. 
Production Through Performance is a turn-key product that offers content resources, student walkthrough videos, self-assessment documents, quick look documents, rubrics, lesson plans, digital badges, video lesson plans, and graphic organizers for each project. The course is designed for an eighteen week high school semester, but it can be modified for both the middle school and college level. The student and teacher portal for unit two project four is available for preview here: student | teacher. 
Content Resources
There are text explanations, multi-camera videos, and workouts for all of the core content in the production through performance curriculum. These resources are available for free on shedthemusic.com and act as the textbook for the course. Important resources are linked in each lesson plan and on the student portal page for each project. 
Student Walkthrough Videos
Each project includes a multi-cam walkthrough by the author of the curriculum, Bob Habersat. Instructions are given in a clear and friendly manner allowing students to quickly understand what is required for each project and how to best complete it. Additional tips and tricks are also added to the walkthrough videos on practice strategies, songwriting, and production techniques. These videos are fantastic as a remediation tool for absent students or for students who need to be reminded of the project steps allowing the teacher more time for those who need individual attention. The walkthroughs also assist students that are completing projects on their own for enrichment. 
Self-assessment Documents
A simple four-question self-assessment questionnaire is given along with a rubric for students to fill out after each project. Teacher and student can compare rubrics in a post-project conference which helps students with the accuracy of their self-assessment. 
Quick Look Documents
A short description of each project reminds students of the requirements and saves time by limiting the need to ask the teacher procedural questions. 
Graphic Organizers
Graphic organizers are supplied for most of the projects in the curriculum. These organizers allow students to complete the compositional elements of each project before getting on Soundtrap. The teacher can check the organizers before students move to the DAW catching any errors in the writing process before they are recorded. Using organizers also helps focus students' attention on what is required for each project by cutting down on unstructured time in the DAW. 
Rubrics
There are performance and project rubrics on the teacher portal that clearly link the levels of mastery in different proficiency areas with a point value for easy grading.
Print + Video Lesson Plans
There are print and video lesson plans on the teacher portal that outline best practice and remediation/enrichment strategies for each project. The video lesson plans also offer ways that teachers can become better producers through transcription and practice. 
Digital Badges
Each unit is linked with a digital badge that can be awarded to students through BADGR. A digital badge is a micro-credential that can be used on a college application or resume giving the institution or employer a more complete look at the skills that have been acquired by each student. We are currently working with different music schools around the country to accept Shedthemusic badges as currency in the scholarship and application process. There is also a possibility that these badges can be used as credit toward certain college courses and specific colleges. 
User Group
Each teacher is invited to join the Production Through Performance user group on Facebook. There, peers can talk to each other and to Shed staff about insights and problems that they run into when teaching the course. Teachers can also set up collaborations between their students on different projects, allowing them to communicate to others around the world. 
Graduated Credit + Vandercook College Of Music
We will be doing online training of the curriculum through Vandercook College of Music in the summer of 2019. The course counts as three graduate hours that can go toward a masters degree at VCM or be redeemed for professional development. The instructor (Bob Habersat) guides participants through each project, bettering their skills as a digital producer and giving them insight into how the curriculum will work with their school. For more information click here
We are very excited to offer this curriculum to other music educators. Feel free to contact us at shedthemusic@gmail.com for more information regarding this course. 
Coupon Code
Use the code SOUNDTRAPBLOG at checkout to receive 15% off of the curriculum for the 2018/2019 or 2019/2020 school year.