Student Storytelling Project Takes Learning to a New Altitude
September 22, 2021
Black Forest Elementary in Aurora, Colo. collaborates with the Young Composers Playground to produce student-created story narration projects set to music
Jeff Gleason has been teaching elementary music at Black Forest Elementary, part of the Cherry Creek School District in Aurora, Colorado, since the school's inception in 2012. Throughout his time as an educator, Gleason has sought creative ways to support exploration and enhance learning. In recent years, he has been particularly interested in sparking students' musical interest during their formative upper elementary years. 
Over the last five years, one way he achieved this was through a partnership with the Young Composers Playground, a Denver-based organization he worked with to develop a number of composition and story projects with his classes. When the pandemic hit, in-class collaboration was no longer an option, but Gleason was convinced that didn't need to prevent collaborative music projects from continuing. Through a CCSD pilot program that launched just prior to the pandemic, he had discovered Soundtrap, and it was clear there was a lot of potential with the online studio.
"This past year was a nice springboard into trying some new things and Soundtrap was a big one for us. I explored a lot of it with third, fourth, and fifth graders," says Gleason. When Conrad Kehn, the founding director of the Young Composers Playground, reached out about continuing efforts during the pandemic, they discovered a natural integration. "How can we make this happen?" asked Kehn. Gleason mentioned his use of Soundtrap and Kehn said, "Well, we use Soundtrap in our summer programs. So let's figure out how we make this work together."
Collaboration 2.0 Using Soundtrap
They brainstormed taking ideas from the Playground's classes and Gleason's classroom teaching to establish a new approach to their collaboration. "I think this might have been the best way throughout all the years that we've done projects together. Soundtrap provides opportunities to kids who aren't necessarily familiar with creating melodies and harmonies, and that really improved the experience," says Gleason. They tied in the story writing piece to the musical composition, expanding creative expression. Gleason adds, "The kids were [almost] film score writers or podcast music creators. They experimented with recording using the microphone, a digital audio workstation (DAW), and narration."
They launched a project in which groups of four to five students worked together virtually to:
Write a short story
Record the narration
Create music that went with the story (Melody, Harmony, Rhythm)
Create artwork that represented elements of the story
It was a fun two-week event, and students were able to work with an outside ensemble of artists affiliated with the Young Composers Playground, who guided them during the composition section of the project. "The artists zoomed-in talking about the project, showing examples," says Gleason. "Then we'd let the kids work the next couple days and the artists would check back in with the kids to give them some professional feedback to go along with their peer feedback." The artists also helped in recording themselves playing the guitar and violin melodies to what the students wrote.
How the Project Unfolded
Student project using Soundtrap – The Lonely Girl and the Dragon
"Some groups of students worked altogether in their groups throughout the whole process, breaking it down together. Other groups split up to focus on specific assignments, saying 'Okay, you're really good at making beats and writing melodies. Why don't you go do that? I'm going to work on finding loops and sound effects that we need to fill in the gaps,'" Gleason recalls. The finishing touch came in the form of illustrations. Students added their artistic expression in drawings that visually represented the essence of the stories.
"The teaching artists that we worked with at the Playground Ensemble helped put the final touches on the music that the kids had created," says Gleason. "They made sure it was balanced so the narration would stick out above the music." From there, a final audio track was created by Playground with the artwork added; it was then packaged in a completed video to share. The videos were shared in class, and links were sent out to parents, as well. 
Student project using Soundtrap – Sleepover at the Park
Building on Successes
Gleason couldn't have been happier with the results of the project, producing that "spark of interest" and creative output that he always desires. Some students even continued their use of Soundtrap to record personal projects on their own. Another interesting result was how the learning took place for the adults involved. The Playground Ensemble recognized that certain pieces of the process need to happen first as building blocks to be slowly released to the kids. Gleason found the two-week segment perfect for the kids to get their feet wet in understanding commitment to timeline and deadline. "I kept telling the kids this is a real-life situation. You took on this project and you have a deadline. It has to be done," he says, explaining the real-world relevance.
Moving into the upcoming year, Gleason is excited to see Soundtrap further integrated into music teaching and other cross-curricular activities at Black Forest Elementary. With the Playground Ensemble collaboration set up for another year, Gleason anticipates even more learning breakthroughs. He stresses that the collaboration merely marks the beginning of interest that will inevitably grow over time. "The students were able to see how professionals go about the process and became intrigued to do it on their own. I think that's a powerful piece of it," he says.
About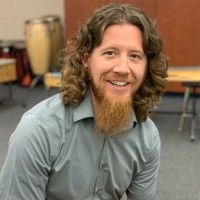 Jeff has been teaching music for 18 years, 7 years of high school marching bands, and the last 11 years teaching general music at the elementary level. He recently completed his master's of music in music technology at Southern Utah University which sparked his interest to incorporate music technology into his curriculum. Jeff shifted this year from Black Forest Hills Elementary to teach at Cherry Creek Elevation, a 6-12 blended learning environment where he is excited to bring this approach to older students in the district.