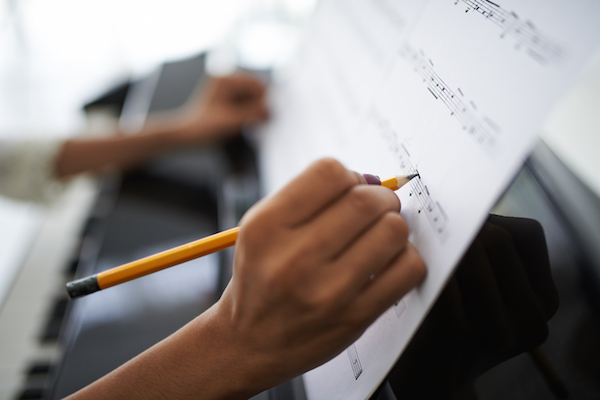 A Small District Turned Every Student Into a Music Composer
February 7, 2017
A small district believes that every student can be a music composer or an artist. That's why they're teaching them how to make their own music.
New software and a big collaboration changed how one rural school's students think about music
There are moments in my life when the world slows down long enough for me to have incredibly emotional experiences linked to music. Those moments are pure joy. My goal as a music educator is to facilitate opportunities for my students to connect in that very same way.  I'm a music teacher for Montana's Big Sky School District, so it's thrilling when my students embrace powerful moments tied to music that really reach deep, and then find a way to lock into them for the rest of their lives.
One of the purest ways to imbue students with these amazing experiences is through music composition. Spending seven years as music teacher in Big Sky's rural community, I encounter daily the educational benefits that a small school district offers students, particularly in its abilities to offer more intimate backdrops for learning.
Sadly, though, our less-populated rural areas lack resources—human and otherwise—and this deficit positions our school music programs in circumstances that are less than ideal. Rural communities don't necessarily have a symphony or a spectacular venue that help our kids discover the "moment" that hooks all musicians. Without exposure to the important outside influences that help shape musical futures, we rural districts are essentially making music by ourselves, operating in a bit of a vacuum, which can prevent students and educators from accessing beauty through music.
Reaching the rural contingent
An email from Yarrow Kraner in September 2015 dramatically changed the musical trajectory of our little school district. Yarrow is an internationally acclaimed director, producer, entrepreneur, philanthropist and founder of the HATCH Experience. HATCH is an annual four-day summit held in Big Sky that brings together the world's most innovative thought leaders to find ways to connect people through creative projects. Yarrow wrote to me during last year's conference to ask if we were interested in having some of the musicians visit my music class. You're kidding, right? Who would say no to this unique proposition?
Just days later, acclaimed cellist, producer, and composer Philip Sheppard, and Russell Spurlock, who is a wildly successful TV and film composer, were in my classroom convincing students that composing is easy. Their initial visit grew into the HATCH Ostinato Project, an experimental music program that helps students in underserved music classrooms collaborate on music production, regardless of their abilities.
A class full of composers
Kids want immediate gratification. They are also married to technology. Philip and Russell showed them how to create a piece really fast using simple technology, and we could see their brains were churning. The students were hooked. They knew they were doing something that they once thought was a skill reserved exclusively for people who attended high-end conservatories. They engaged so well that Philip, Russell, and I decided to dream up a collaborative composition project right then and there: We called it the Ostinato Project. We told the kids it's OK to think big and have great ideas, and Philip reinforced this belief by explaining that he "never met a kid who can't compose."
Each week, the students wrote an idea that I would send off in a video via Dropbox to both Philip and Russell, who would then write the track. But we realized a few weeks in that the kids needed to see and understand the process. That's when I began exploring different digital options with our school's technology director. We rejected traditional programs like GarageBand, Pro Tools, Logic, Finale and others that involve the cumbersome exporting of files. I wanted something collaborative and social, and the tech director found this really cool online tool called Soundtrap. It fit our needs perfectly.
Musical forum in the cloud
Soundtrap is a cloud-based online recording studio that lets students make music or audio recordings within an invited and secured group, and it works across every device and operating system—iOS, Android, Chromebook, Mac, and Windows. This feature is very important, given the variety of personal devices in our homes and classrooms. It also offered an easy forum for the students to add to or tweak the music themselves, and then send back the results. They loved the interface because they were already comfortable interacting on social media. In fact, Russell told me his 11-year-old nephew is now "blowing up his inbox" with music sessions.
Because the musical pieces weren't initially composed in Soundtrap, we uploaded the stems of each track, then took one giant MP3 or .WAV file and broke it into pieces so the students could see the different layers of each piece. This allowed them to move past a simple,"Oh, I like it," to such probing considerations as, "Why does that note not sound right?"
We communicated through journal entries in Google Classroom, and once a month Philip and Russell jumped on Skype and talked to the students from London and Los Angeles. It's amazing to see young musicians in a tiny rural district feel like they're connected to the world. Parents wrote to me saying, "My kids can't stop talking about this." The students understood they were in the presence of something beautiful. It's like a kid who loves cars, who suddenly sees a Ferrari for the first time and realizes, "Wow, this is a really amazing thing right here in front of me."
HATCH Ostinato
Through the HATCH Ostinato Project, we produced 12 tracks in 10 weeks—which are now for sale on Google Play Music and via iTunes. All proceeds from the album sales are being reinvested back into the Ostinato Project for arts programs, like the one at Big Sky School District.  When you're working with excited kids, the results can be meteoric.
About the author: John Zirkle is a music teacher for Big Sky District in Montana.