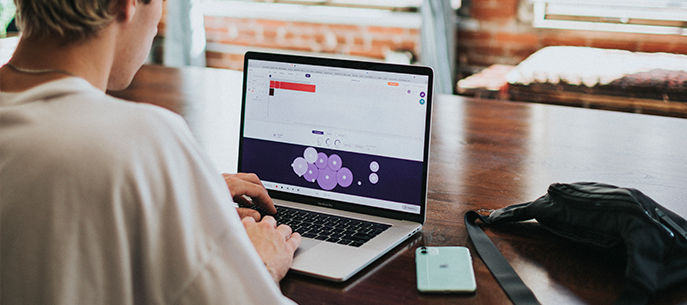 What is a DAW, and Why Does it Matter?
July 25, 2023
What is a DAW? It's one of the most innovative software to emerge in the last 40 years. A Digital Audio Workstation (DAW) is the central component of modern music-making. It allows music makers to create beats, experiment with virtual instruments, and polish their tracks for a professional final project.
DAWs empower music makers to express their most authentic selves with the power of sound. With this revolutionary software, you can input audio from instruments and edit their digital audio files to create a unique sound. Also, you'll have access to plenty of pre-made plugins to add audio effects you may not have considered before.
Are you ready to learn more about what the right DAW can do for you? Let's jump in!
What is a DAW?
A Digital Audio Workstation (DAW) is software you can use to record, edit, and produce audio. Basically, a DAW is a digital recording studio where you can record content for many different purposes, such as podcasting, music, and more. With the right DAW, you can complete the entire recording process whenever and wherever possible. 
DAWs have quickly become the most popular way to create music and edit audio recordings, with everyone from beginner producers to professional audio engineers using them to create the next hit single.
A Brief History of the DAW
What is a DAW? It's only one of the most incredible software to emerge in recent history! Digital Audio Workstations have played a crucial role in revolutionizing music production in just a few decades. 
In the early 1990s, the emergence of affordable personal computers with improved processing power and audio capabilities led to the development of the first software-based DAWs. In the past, only a select few had access to recording studios, but now, you can create music too!
Let's learn more about how DAWs became a must-have for music makers!
The 1970s to the 1990s
Soundstream created the world's first DAW in 1977. By 1989, a company called Digidesign released Sound Tools, which would become the inspiration for some of the popular DAWs in existence.
Throughout the 1990s, DAWs such as Cubase, Logic Audio, and Cakewalk emerged, offering musicians and producers a range of options for composing, recording, and editing music. These DAWs introduced features like MIDI sequencing, virtual instruments, and plugin support, expanding the capabilities of music production.
The 2000s
As technology progressed, DAWs became more powerful and user-friendly. In the 2000s, digital audio recording became more accessible with the rise of affordable audio interfaces and home studios. Pretty soon, DAWs gained popularity for their innovative approaches to music creation and performance.
The 2010s to Today
The 2010s witnessed further advancements in DAW technology, with improved audio quality, enhanced plugin support, and seamless integration with hardware controllers. Cloud-based collaboration features also emerged, allowing musicians to work together remotely.
Today, DAWs like Soundtrap for Education are more intuitive and easy to use than ever imagined! With a vast array of tools for recording, mixing, mastering, and collaborating, the sky's the limit. These DAWs continue to evolve, incorporating new technologies like artificial intelligence and machine learning, propelling towards a new era of music production.
What is a DAW: The Computer Requirements
As DAWs became more accessible, so did the computers we know and love. However, there are a few things you'll need to know about a DAW's computer requirements before you start creating.
Since most computers have a Mac or Windows operating system, you'll need to ensure that the DAW you select is compatible. Once you have that settled, you can create your musical masterpiece with the desktop or laptop you already have.
And the best part is DAWs like Soundtrap for Education can be accessed from any internet-connected device, so you can create music with your smartphone or tablet if you're not able to access a computer.
Also, using a DAW is much easier when your device has the RAM, processing speed, and disk space to accommodate your needs. If possible, working on a device with a large monitor may be helpful to streamline the audio production process.
What is a DAW: How to Use Your DAW for Music Production
We've only scratched the surface of all that a DAW has to offer. You can take your sound to the next level with the right DAW. Now, we'll review a few ways that you can incorporate a DAW into the music composition process. 
Record and Edit Audio
Today's digital audio workstations are complete with built-in sequencers that make it easy to record, edit, and playback your creations. You may need an audio interface unless you're using a built-in microphone and digital instruments. Simply put, an audio interface converts the audio signal from instruments and external microphones into data so that you can edit it on your device.
After recording, groovy features like Auto-Save will ensure that your audio is saved and displayed in the DAW, where you can experiment with the power of sound. This is where you'll balance the EQ, add sound effects, and perfect the timing for a polished final project.
Play Virtual Instruments
If you don't have access to physical instruments, you can always create your music with virtual instruments! These revolutionary virtual instruments are software programs that sound just like traditional instruments. If your track needs a synthesizer, piano, drums, guitar or something entirely different, you can rest assured that it's accessible on your DAW.
Most DAWs come with a library of sounds, but if you're in need of a sound that you don't see, there are plenty of plugins and sound packs that you can download to perfect your music.
Experiment with Audio Effects
When your music is missing something, add a little something extra with audio effects! Modern DAWs come with an array of fun audio effects that you can use to take complete control over your sound. 
Effects such as reverb, delay, distortion, compression, and more are at your disposal, so you can create the best music possible. Akin to virtual instruments, you install audio effect plugins to ensure that your songs align with your creative vision.
Mix Your Music
When you're asking yourself, "What is a DAW, and what does it do," the first thing that comes to mind is mixing and mastering audio. After composing, recording, and adding effects, you'll move on to mixing your recorded material.
Sometimes, playing multiple tracks at the same time can cause frequency masking issues, which may result in a song that lacks the impact and loudness that you need for a professional-sounding song. During the mixing process, you'll take the time to resolve these issues for a crystal-clear sound.
Master Your Mix
Mixing and mastering seem the same at first, but they're actually quite different. After mixing your song, it should sound a little more like something you would hear on the radio, but it may be missing a few components that take your song from good to great. This is where mastering comes in.
During the mastering process, you'll spend most of your time balancing the frequencies and putting the final touches on your song so that it's ready to release. This often entails balancing the levels, adding stereo enhancements, and monitoring to improve the song.
Collaborate with Others
Music is all about creating, collaborating, and connecting with others, so why not use your DAW to make it happen? With advanced audio editing software like Soundtrap Education, you can collaborate with your friends from any time or place and make music like no other. And since all of your projects are stored in the cloud, you won't need to worry about losing your hard work!
You'll never miss a beat with Live Collaboration, which makes it possible for multiple people to work on the same project at the same time. And to sweeten the deal, Soundtrap for Education comes with a super cool Comment Feature that allows you to comment on a specific region or moment of the song as if you were creating music in the same room together.
Create Your Musical Masterpiece with Soundtrap for Education
Soundtrap for Education is the ultimate audio production platform for students and teachers to create and edit audio recordings. Pupils and educators can easily tap into their artistic side with this intuitive audio platform that facilitates a creative learning environment for every subject, regardless of the student's age or experience level.
With Soundtrap for Education, students and teachers can collaborate with advanced cloud technology at any time or place. In addition, the platform comes equipped with a robust resource portal, with tutorials, an external curriculum, and lesson plans to complete the educational experience. And to ensure privacy, teachers can keep student collaboration safe and secure with invite-only groups in Soundtrap's versatile digital environment. 
If you're ready to enhance your educational experience with an intuitive cloud-based audio production platform, start with Soundtrap for Education! And be sure to share this article with other teachers in your network to help spread the joy of learning through sound.