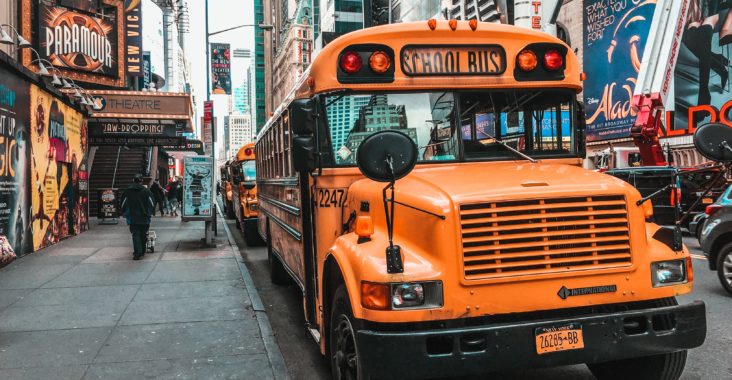 Music Technology has Leveled the Playing Field
December 11, 2019
By Luke Manas, Teacher, York Early College Academy
When I decided to become a music teacher, I wanted to give my students the sense of community and meaning making that I felt when I was in school. To build a program that offered that, I knew that I might have to find some creative solutions. What I didn't anticipate was falling in love with those very solutions!
I teach in the New York City Department of Education, the largest school system in the U.S., with more than 1.1 million students. 1,800 separate schools and just as many stories and contexts. For the last few years, I have found a home running the music program at York Early College Academy, a small school in Jamaica Queens for traditionally underserved, but strongly motivated students in grades 6-12. When I started the music program here, I had a few ideas that I let guide my planning: have students make music as quickly and as often as possible, push them be as creative as they can and, ask them to grow their voices as individuals as well as in collaboration.
For us, like many, the challenge was context. Many of my students do not play instruments and have not taken formal music classes since elementary school. We did not yet have access to grants for instruments and equipment and even if we did, seeing students for multiple years is difficult to schedule in a small school with our model. My first year here, I taught most of my classes in a science room. Despite the challenges, I knew it was possible to offer my students a meaningful music education. For us, the solution was music technology.
"Music technology offered the flexibility necessary to engage all my learners no matter their background, skill level or interest."
It was a blank slate that could cut the learning curve and get our students making music right away. We built the foundation of our music program here using music technology and since built the capacity to expand to traditional instruments. Technology, however, will always remain the cornerstone of what we do because of its effectiveness.
Making Those Self-Portraits Sing
Every year, the first project we do is a Musical Self Portrait. We begin by discussing how art can influence the emotions of the viewer or listener; how different elements come together to paint an understanding beyond a recitation of facts. After journaling about how they see themselves and then finding out how their peers perceive them, they begin to connect these feelings to different sonic descriptors: dissonant, fast, melodic, sweet. Once they have an idea of their sonic pallet, they are off to work!
This project is an amazing opportunity for my students to show me what they know and for me to collect meaningful data to describe it. By using technology, my students can begin to produce meaningful work without having to worry about advanced technical knowledge, how they will notate their ideas or not having enough instruments to go around. They can add original vocals or instrumentals just as easily as they can manipulate loops and drums allowing students to go as deep as they are willing and able.
There are many not-so-obvious benefits of using music technology in the music classroom and each plays a part in why it is such an effective tool. Teaching students to work in a digital medium allows for seamless addition of both electronic compositions and recordings of acoustic performances into portfolios. It is a powerful aide for my learners with special needs as it provides visual scaffolds and easy revisions. In addition, it unlocks the use of station teaching in my classroom, where students are broken into groups working on separate tasks. I can then work with my budding violinists and cellists while my guitarists and vocalists are engaged in meaningful creative work that doesn't disrupt the group. This small group instruction is one of the most powerful benefits of a technologically integrated music classroom.
This is How We Do It
My tool of choice for digital music making is Soundtrap. I discovered Soundtrap in 2015 while I was teaching at the Albert Shanker School for the Visual and Performing Arts in Astoria Queens. I was teaching a studio production course with Garageband in a mac lab, but the computers were aging and that lead to the expected problems. In the process of upgrading the lab I wanted to move to Chromebooks, but couldn't unless I found a compatible platform.
What I found in Soundtrap was more than I had anticipated. My students were able to utilize all of the same features of traditional beginner digital audio workstation but with the added benefits of being based in the cloud. As such, it works across devices smartphones, tablets, PCs and Macs giving students the freedom to continue working on their projects from home and, I appreciate being able to tap into the students' projects to see their process without peering over their shoulders or waiting for an audio file. I also found that with the ease of multi-device collaboration that Soundtrap offers students did just that, collaborating on interesting and original compositions and podcasts.
When I came to York Early College Academy in 2017, I knew I would be using Soundtrap to build our new music program. Music technology gives us so many opportunities to reach beyond the boundaries of traditional music and music making. To innovate for and with our students. It is a universal access point that helps enable all learners, no matter their needs or economic status, to enjoy the benefits of music education.
About the Author
Luke Manas is a music teacher in the NYC Public Schools. Luke is interested in how the arts function as community and culture builders within larger school communities and, how technology can be utilized in an effort to engage students in more complete musical learning. He holds a B.A. in music performance from Stonybrook University and a M.S.ed in music education from Queens College.
This piece was originally posted by AC&E in their Fall 2019 issue found here.