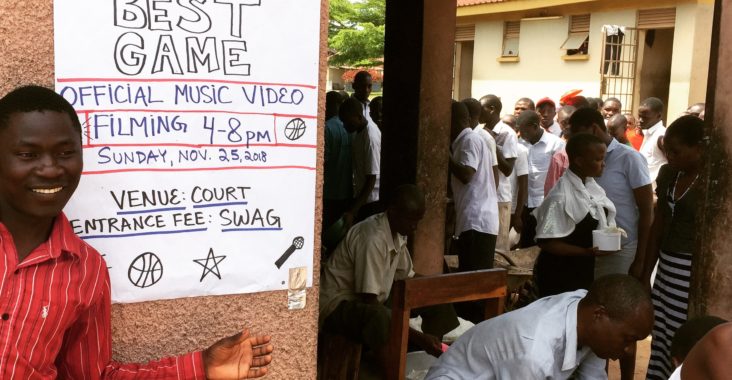 Uganda Students Introduced to Recording Online
January 16, 2019
Soundtrap is a great tool for teaching Uganda students how to record online. It is a cloud-based recording studio that can be accessed by anyone with a computer, phone, or tablet.
For the past two years, I was blessed to live and work at a Teachers' College in Uganda. During my time at Mukuju PTC, the students and I developed a tight bond through history lessons, dramatizations, poetry, and debates. The biggest accomplishment was constructing a basketball court and neighboring public health hut. The court, benches, and building create a semi-urban space that changed the campus culture by giving students a chance to play basketball, hang out and listen to music in the evenings.
In November 2018, we officially launched the court and arranged for students to perform songs, dramas, and dances at the launch ceremony. Several students emerged as talented rappers and they performed a song dedicated to basketball at the Opening Day. The song is called "The Best Game" and it had the crowd hyped! I decided to help them record it. Trouble was, I only had a Chromebook and didn't have any music making software.
After a quick search, I discovered Soundtrap and installed the extension. Soon we were out on my porch every evening, recording and rearranging the composition of the song. The program allowed us to make a template and to visually get a sense of how the verses fit together, and I also was able to combine several beats to give it a mixtape feel. Because the Chromebook mic isn't very suitable for recording, we took the mp3 file to a studio in town and recorded the song with Logic.
Inspired by the success of that hit among students on campus, another trio came forward and we were able to record their song on Soundtrap as well. For this one, I used an iPhone mic and then uploaded those vocal files to Soundtrap and matched them to the beat they gave me. After using the program before, I was familiar enough to create a song that almost sounds like it was made in a professional studio as well, despite us recording in my living room. The voice filters helped enhance the sound and we found a solid song we all agreed was exportable. They now have the files and play them in their villages for their friends and family.
At some point, the idea of a music video came for that first song. "The Best Game" is a song by Ugandan students about basketball, and I felt the court (with the mural of African legends) was such a unique spot that a music video could work. We got a local DJ to come and students showed up with style to the court on the final Sunday evening of the year. We filmed scenes into the night and then I was able to turn the footage into a music video which is now on YouTube for all to see.
Gordon Fischer taught in Maine, New York, California and Tanzania before finding a place at a Teachers' College in Uganda in 2016. He is a teacher, artist, filmmaker and basketball player who loves music and languages. He graduated from Colby College in 2013 with a degree in Art & Social Justice.