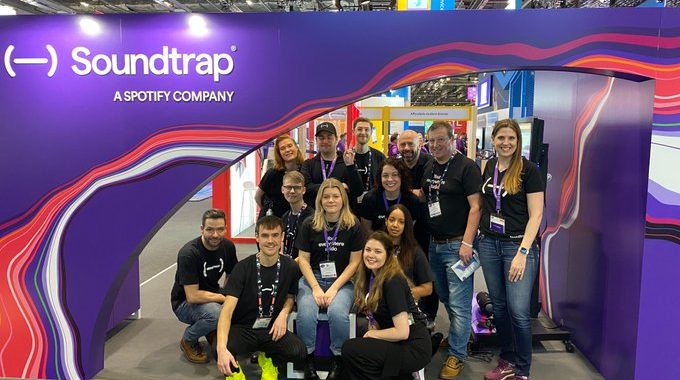 Soundtrap Release Podcast 'Best of' at Bett Show
February 14, 2020
The next stop on our conference schedule was the Bett Show in London. The show brings together the global education community with more than 800 leading companies, 103 exciting new edtech startups and over 34,000 visitors in attendance. Our booth housed 10+ Soundtrap for Education team members, stations set up to test out the studio, and our podcasting booth where we recorded the Best of Bett podcast series hosted by Dr. Rod Berger.
Here is a quick synopsis of our presence at Bett:
1. The Best of Bett podcast series invited more than 25 well-known education speakers (including two of the conference keynoters), edtech authors and executives, classroom leaders, other educators, and even a college student. The goal of our Best of Bett podcast series was to highlight the conference's goings-on from the perspective of a variety of participants. All conversations focused on surfacing the latest trends, challenges, and technology advancements throughout the global education community. The podcast series is available for free, to subscribe and stream, via Spotify.
2. Our partnership with the Center for Educational Excellence in Alternative Settings (CEEAS) was recognized as a Bett Awards finalist in the category of Collaboration with a School. For the past two years, we've worked with CEEAS to support the Unsung: Voices of Youth Justice initiative, a songwriting competition for students in alternative school settings. Check out the five finalist songs from this year's competition here.
3. At Bett, Google for Education announced it would be adding five new creativity apps to its Chromebooks toolbox, including Soundtrap for Education, WeVideo, Book Creator, Infinite Painter, Squid, and Explain Everything. These updates offer a range of apps for students across all grades and subjects and are designed to help all types of learners express themselves in their own way. The new toolbox was featured in Getting Smart as part of Rachelle Dene Poth's conference roundup titled The BETT Experience: Space, Technology, and People. Learn more about the new toolbox here.
Missed us at the Bett Show? Catch up with the Soundtrap for Education at the following upcoming events:
SXSWedu | March 9-12,2020 | Austin, TX
Spring CUE 2020 Conference | March 19-21, 2020 | Palm Springs, CA
Personalization 2020 Conference | April 2-4, 2020 | Providence, RI