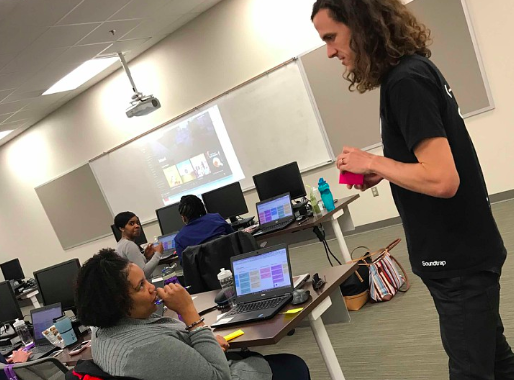 Planning Soundtrap PD? Start here!
July 10, 2018
What are the biggest problems with common teacher professional development practices and how can they be fixed?
Aristotle said: "Educating the mind without educating the heart is no education at all." Sometimes I feel like our leaders miss this target when planning and facilitating professional development for educators. We are individuals. We learn differently from each other. We have feelings, thoughts, and opinions. How come teachers have (so many!) horror stories about sitting through bland, Powerpoint-led, sit-and-get training during their professional development days? We wouldn't and shouldn't expect our students to tolerate this type of non-learning atmosphere. WHY would we apply different rules to our educators' learning experiences?
I have narrowed down my thoughts (and solutions) to three problematic common teacher professional development practices. They are as follows:
Leading is hard, facilitating learning is maybe even harder but try to remember: "The whole is more than the sum of its parts." Another fantastic (and very true) quote from the wise Aristotle.
Look for "Planning Soundtrap PD in the Fall? Part II" with Soundtrap specific resources for introducing & inspiring your staff to use in early August!
Meredith Allen (@msmeredithallen) is an educator and an international presenter. She currently works as an Education Specialist for Soundtrap. Meredith taught instrumental music, K-7 technology and virtual reality at a rural school in Iowa.  She has a Master's of Science in Technology for Education and Training. This piece was also featured in Response: Too Many Professional Development 'Horror Stories' found here.