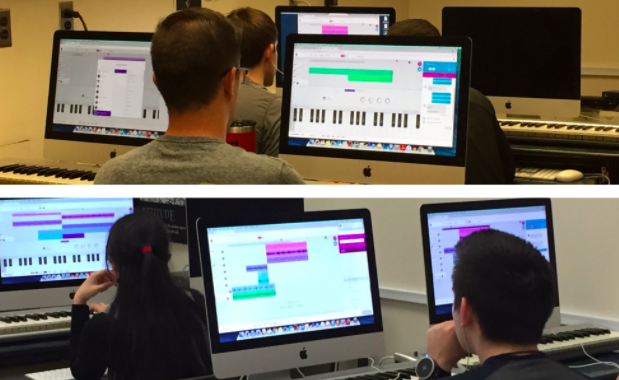 Music Technology Class Creates & Reflects
December 19, 2017
The below songs were created by the University of Arkansas Fall 2017 Music Technology class using Soundtrap. The students created a drum beat using Groove Pizza, added a guitar/piano vamp and then collaborated with each other for inspiration. Their professor, Daniel Abrahms, was kind enough to share the playlist with us along with some captured reflections of the creation process. Enjoy!
"I really enjoyed the Soundtrap assignment where we had to make our own song. It helped me explore the limits of my musical imagination. I've always had so many ideas in my head, but I have never had the opportunity to put it down on paper (or computer screen). The wide variety of sound options allowed me to make a truly awesome song that I'm proud to show people." ~ Douglas Carmical, Sophomore Music Education and Saxophone Performance Major – Makey Some Music

"I enjoyed using Soundtrap.  My favorite part was the collaboration feature.  I don't know of any other DAWs (Digital Audio Workstation) that allows multiple people to work on the same project at the same time." ~ Jesse Warren, Junior Music Education Major – Fixin 2 Electric Boogaloo (Collab with Garrett Naylor)

"Starting a project on Soundtrap was initially overwhelming…knowing you have endless possibilities at your fingertips is a daunting thought but the website allowed me to collaborate with a partner which gave me a nudge in the right direction. After we created a foundation for our song, the overwhelming feeling transposed into not only excitement but inspiration in many areas of my life. I am a strong believer in the importance of having creative outlets and was surprised at how accessible and enjoyable it is. Soundtrap helped me realize how capable I am of channeling my unconstrained creativity into an art that speaks to me." ~ Tylee Peterson, Sophomore Music Education & Vocal Performance Major – Project 1.0

"I enjoyed the simplicity of Soundtrap. The layout was easy to understand and the effects were fairly straightforward. The program is very quick to learn!" ~Joshua Fleener, Junior Music Education Major – Untitled Groove (1)

"Soundtrap is a great program for students that haven't used a DAW program very often or at all. I enjoyed using the sounds that were already on Soundtrap. One thing that is really useful is being able to import files into Soundtrap like we did with Groove Pizza. That is an easy way for beginner students to add parts to the project without having to make your own groove in Soundtrap. Soundtrap is great and I hope to see it used in music schools in the future." ~Garrett Naylor, Junior Music Education Major – Fixin 2 Electric Boogaloo (Collab with Jesse Warren)
About the author: Daniel Abrahams studied music education at Temple University and completed a master of instrumental conducting degree at the University of Nebraska at Omaha.  He holds a Ph.D. in music education from Oakland University in Rochester, Michigan.  Abrahams is assistant professor of music education at the University of Arkansas, and has presented research at numerous, state, national and international conferences. He has contributed several book chapters in edited publications. His research interests include the acquisition of learner agency and the use of reciprocal teaching in classroom music and ensembles. His dissertation research examined how pedagogy fosters personal and musical agency among beginning instrumental conductors.