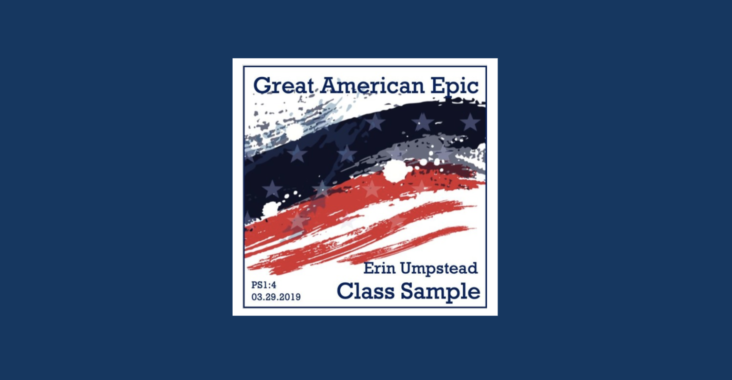 Great American Epic Podcasting Experience
April 8, 2019
Great American Epic is a classroom and after-school podcasting experience that creates student agency in the American Dream by helping students identify and celebrate the core American values. All to answer the question: What makes America great?
In creating student podcasts, we are not asking students what will make America great again. No. America has always been great. It is the focus of Great American Epic to remember for ourselves and remind others that we live in a great country on this Earth. We ask each student to identify their most important American value and why; values such as diversity, technological advance, and opportunity.
"The students become the storytellers of their own hero's journey, where they discover everyday Americans, recount their journeys, retell their stories, and celebrate their crowning achievements: All to answer the question, What truly makes America great?"
Our guide on this grand adventure is Bruce Umpstead, who, for more than two decades, has sought an answer to this question: why doesn't America have a great epic like the Iliad, Odyssey, Aeneid, Divine Comedy, Don Quixote, Paradise Lost, and others. Perhaps Melville's Moby Dick is one for the Nineteenth Century, but what about Star Wars for the Twentieth? According to anthropologist Joseph Campbell, each society has epic tales that celebrate core values at the time of their telling. Perhaps every society has a need for this epic podcasting experience, but America, now more than ever, needs a platform for celebrating the core values that make it a great country. Great American Epic is Bruce's passion project. He is an experienced educational technologist who works for IMS Global Learning Consortium leading state engagement. Bruce is a graduate of Michigan State University (Go Spartans!) and he lives with his family in DeWitt, Michigan near Lansing, the capitol city.
Our host for the first classroom series is Erin Umpstead, Bruce's younger sister. Erin is an exemplary English Teacher at Holt High School in Holt, Michigan. She is also the lead facilitator for Eastern Michigan University Writing Project. She is teaching Great American Epic in her Writing Expressions class where all the students are graduating seniors. Erin is drawn to the podcasting experience because she believes in the power of stories to educate, inspire, and ultimately change one's corner of the world. Podcasts provide a window into the inner lives of everyday Americans. They bring us together and help us to unite under a common experience and understanding. Creating the space and time for this important inquiry for her students will change their lives and provide them the foundation on which to build their own American Dream.