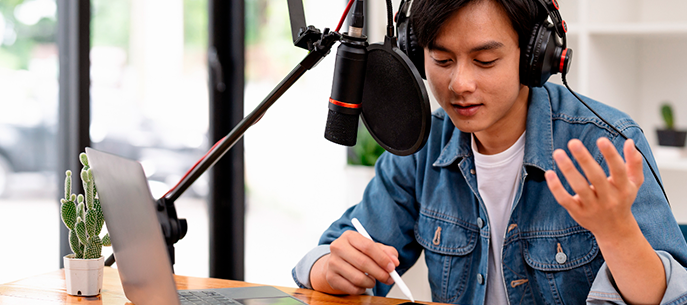 Finding the Right Podcast Recording Software
June 2, 2023
Are you ready to start your podcasting journey? First, you'll need the right podcast recording software to get started. There are plenty of podcast recording tools on the market, but it can be challenging to make the right choice when there are so many options available.
While you might want quality headphones and microphones to record your podcast, the most important piece of equipment is the podcast recording software itself. As long as your computer is equipped to save and edit your audio, everything else is technically optional. But how do you find the right podcasting program?
Today, we'll go over everything that you need to choose the right podcast recording software for your needs. Just remember that the "best" podcast recording software is the one that makes you feel the most comfortable and creative!
What Is Podcasting Recording Software?
Podcast recording software is commonly known as a digital audio workstation (DAW). When most people think of DAWs, they envision software that allows musicians and audio producers to create music. However, you can also use a DAW to create your own podcast.
While some DAWs are made specifically for podcasters, others have capabilities that make it possible for you to experiment with sound in new, exciting ways! Regardless of the podcasting software that you choose, just make sure it has the following features:
Digital audio processors

that allow you to record, edit, and mix your podcasts.

Sound effects,

which you can use to create your own jingle and add in sound bytes for an engaging listening experience.

Cloud-based collaboration

that makes it possible for you to connect with your podcast guests or co-hosts at any time or place.
Podcasting has become more popular than ever in the past few years, and advancements in the podcasting industry make it possible for you to keep innovating! So let's dig deeper and discuss some of the best ways to use podcast recording software.
What Can You Do with Podcast Recording Software?
These days, podcast recording software is quite versatile, but some functionalities are more important than others. There are plenty of ways to experiment with your podcasting software, but these features are the most popular. Use them to become the storyteller you always wanted to be!
Record Your Own Audio Tracks
With the right digital audio workstation, you can handle all of the most essential parts of your podcast. For starters, you can record your audio using your mobile device's built-in microphone or a high-quality external mic. Also, cloud-based podcasting software like Soundtrap for Storytellers makes it possible for you to record multiple tracks at once from any location. If it suits your podcast's format, you can even incorporate video chat for an engaging, life-like listening experience.
Edit Your Audio and Add Sound Effects
Editing your podcast is almost as important as recording it! The best digital audio workstations will allow you to record and edit audio for a polished project. Additionally, advanced podcasting software will even allow you to "smart edit" the audio as a text document so that you never miss a beat.
Podcast recording software also gives you complete control over your project with full audio production, whether you're interested in adding sound effects or balancing the levels in your audio recording.
Collaborate with People from Around the World
Working with other podcasters offers benefits you may have yet to consider. First off, collaborating with podcasters and industry experts gives you the opportunity to expand your audience. Working with other podcasters also adds a sense of structure to your podcast creation schedule, so you're much more likely to stick to your routine. In addition, collaborating with other podcasters is a great way to keep your content fun and exciting for your listeners! 
No matter which type of collaboration you're interested in, the best podcasting software will make it possible for you to reap the full benefits of collaboration. For instance, Soundtrap for Education makes it possible for you to collaborate with podcasters from around the world just by sending them the link to your podcast. 
What Makes a Good Podcast Recording Software?
With so many options available, finding good podcast recording software can be challenging. Some podcast recording software delivers excellent results but can be challenging for beginners to use. Meanwhile, there are others that are more straightforward but don't offer the advanced functionality necessary to accommodate a seasoned podcaster.
If you're unsure where to start, we'll guide you in the right direction. Stay on the lookout for these qualities when searching for high-quality podcast recording software.
Top-Tier Recording Features
When you're looking for the best podcast recording software, choose a program with high-quality audio recording capabilities. This way, you won't need any equipment other than your laptop or cell phone to create a podcast your listeners will love!
If you're interested in creating podcasts with others, make sure that your podcast recording software also makes it easy to collaborate. For example, some podcast recording software also has features that allow you to host guest interviews simply by sharing a link. 
An Intuitive Interface
Whether you're just starting your podcasting journey or you're interested in upgrading your current podcast software, an intuitive interface will make it much easier to accomplish your goals. When you're using high-quality podcast recording software, recording and editing your podcast is a breeze. The software creators should also provide you with access to plenty of tutorials so you can jump in and start creating your masterpiece as soon as possible.
Advanced Editing Capabilities
One of the most essential features of your podcast recording software is the ability to edit your audio recordings. A good podcast recording software will allow you to add interesting sound effects and splice audio tracks for a stellar finished product. 
Consider choosing a podcast recording software complete with a handy Interactive Transcription Tool to edit your podcast word for word until it's picture perfect! 
How to Select the Right Podcast Recording Software
Now that you understand digital audio workstations and know what to look for, here's the final information you need to make an informed decision about the software you use to create your masterpiece. Then, you can jump in and start recording your podcast!
Choose a Podcast Recording Software That Is Compatible
Before selecting any podcast recording tool, you must choose software that is compatible with your operating system (OS). While there are several different operating systems, most people use Mac or Windows to create their podcasts.
Whichever OS you use, your best bet is to choose a cloud-based podcasting software, which ensures that you can create a podcast on any device at any time. Furthermore, you can invite guests to your podcast using different operating systems for limitless collaboration.
Assess Your Podcasting Needs
All podcasts are different, so you'll need to figure out which capabilities will help you create your unique podcasting vision. For example, some podcasting tools are best suited for adding sound effects and editing your podcast, while others may be better for recording your podcast script.
Also, ask yourself whether or not you're interested in having guests on your podcast. If so, make sure you select a software that makes it easy to collaborate with others. And if you're new to podcasting, it's in your best interest to select a beginner-friendly digital audio workstation that's intuitive and easy to use. 
Assess Your Budget
You're probably investing quite a bit of cash into your podcasting journey, especially if you're purchasing equipment. Even though you only need a mobile device to get started, you'll need to set some extra funds aside for your podcast recording software. When you're looking for podcast recording software, you may notice that the prices vary greatly, but there's certainly an option that fits your budget! 
Generally speaking, podcast recording software can cost nothing at all or up to $2600 a year. Most podcast recording programs have tiered pricing options, which allow you to unlock different features for a greater price. Whichever podcasting tools you choose, make sure it fits within your current budget, so you can focus on creating!
Create Your Podcast with Soundtrap for Education
Soundtrap for Education is the ultimate audio production platform for students, teachers, or even aspiring podcasters to create and edit audio recordings. Users can easily tap into their artistic side with this intuitive audio platform, plus use its advanced cloud technology to collaborate with guests or co-hosts at any time or place.
Soundtrap is even perfect for creating podcasts in a classroom setting, as part of any modern-day curriculum. With Soundtrap for Education, students can flex their creativity and work together to create their own audio programming in a safe, teacher-moderated environment.
For new users, the platform comes equipped with a robust resource portal and detailed tutorials to help you get the most out of your podcasting experience. If you're ready to enhance your final product and reach your podcasting goals, our intuitive cloud-based audio production platform will get you there. Just click to get started today with Soundtrap for Education!