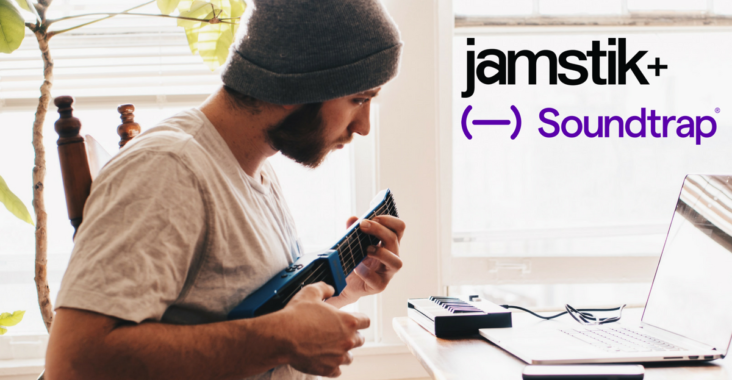 Expansion into Mexico & South America Schools
May 2, 2018
THE JAMSTIK WORKS WITH SOUNDTRAP!
We're excited to announce the integration of the jamstik with Soundtrap—an online music studio that operates directly in your Google Chrome browser!
Our friends at Soundtrap decided that music-making and recording should be much easier, and we agree. You shouldn't have to be a studio technician in order to make music with high audio quality.
In fact, more and more professional musicians are utilizing their smartphones and laptops to produce and record their music—Check out this post on how Kendrick Lamar's producer, Steve Lacy, creates music on his iPhone.
HOW DO I GET STARTED WITH SOUNDTRAP?
If you go to Soundtrap.com and create a login, you'll get access to your very own online music studio with an extensive collection of software instruments and loops. Soundtrap offers an open community where you can share creative moments and collaborate with friends in real-time.
There are different levels of studio packages designed to meet your needs, including Basic (free), Pro, Premium, Supreme and EDU packages*. Check out this page to see a breakdown and choose which studio is right for you—Soundtrap even offers a trial option so you can make sure you love the online music studio before committing!
*If using Soundtrap in your classroom with students, please visit Soundtrap.com/edu for our COPPA/FERPA compliant product that is designed and tailored for collaborative audio recording in a safe, controlled digital environment.
HOW DO I CONNECT THE JAMSTIK TO SOUNDTRAP?
Your jamstik can connect to Chrome via USB or Bluetooth MIDI, and you can get started right away. (Just in case you need to refresh your memory on connecting the jamstik+ to a Mac via Bluetooth, this 45 second video spells out the details: https://youtu.be/XDovlG0tUEI)
If you've used other recording software, Soundtrap has a very familiar interface that's easy to understand. If you've never used a DAW, Soundtrap is very easy to get started and has plenty of tutorials, videos, FAQ's, and support to assist you along the way.
WHAT DEVICES WILL SOUNDTRAP WORK WITH?
It's important to note that Soundtrap's jamstik+ integration works best on a Mac or PC using Google Chrome. Soundtrap also works standalone (without the jamstik) on Mac, Windows, iPad, iPhone, Android phones and tablets, Linux and Chromebooks.
All of your projects are stored in the cloud, and you can access them wherever you are.
CAN I EXPORT SOUNDTRAP FILES TO OTHER DAWS?
Yes! Soundtrap is interoperable with DAWs through MIDI File Export so you can send an entire song, or parts of your composition to other software, like GarageBand or ProTools.
SOUNDTRAP FOR EDUCATORS
Soundtrap EDU is an online tool that enables teachers to follow the latest curriculums through music, podcasts, language, literacy training, and other sound recordings.
Students are able to collaborate and develop their own creative and communication skills in an easy-to-use music and audio creation platform for all levels of musical interest and abilities. Soundtrap EDU is trusted by more than 1000+ teachers worldwide. Head to the Soundrap education page or read more here at the EDU blog to learn more.
COLLABORATE WITH OTHERS
In addition to having great music making tools at your disposal, Soundtrap makes collaborating with other users really simple. You can experience with old and new friends from all around the world!
Soundtrap's vision is to make advanced recording technology available for everyone and to promote musical creativity. The jamstik+ with Soundtrap is the perfect pair for creating music wherever, and whenever you want.
We encourage everyone with a jamstik to check out Soundtrap and look for other users to share and collaborate with. Check out our community on Facebook to find other jamstik users, or join the Soundtrap Hangout Facebook group. Educators, check out the Soundtrap for Education Facebook group page as well!
CONNECT WITH THE JAMSTIK TEAM
Have an app you want us to check out or test for jamstik compatibility? Send us your suggestions to hello@zivix.net we're always excited to hear your recommendations! Check out other compatible jamstik+ apps on the Apps Page.
About the Author: Chris Heille is the Director of Product Innovation at Jamstik