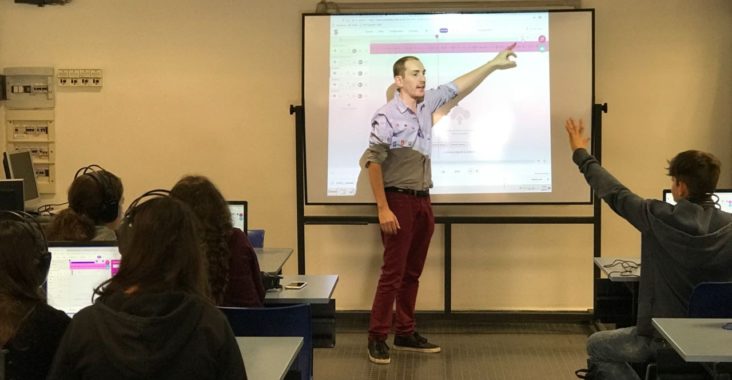 Digital Music Making Energizes Class of Teens
March 20, 2018
Many teens are not interested in traditional activities like sports or music. However, the digital music-making trend is attracting more and more teenagers.
Technology is breathing new life into our school's music program. Until recently, our music program at ORT Argentina in Buenos Aires, a private Jewish school that is open to the entire community, lacked adventure. As the school's academic director of music, I wanted to take music to a new level—one that would encourage collaboration and curiosity in our students and inspire a newfound appreciation for the beauty and wonders of all kinds of audio from music making to audio and everything in between.
ORT advances a STEAM (Science, Technology, Engineering, Arts and Mathematics) educational model, and collaborative software is critical to the program's success. Today's young people are digital natives, and so finding an education platform that mimics their social media behavior and offers instant gratification makes their buy-in that much easier.
A year ago, while browsing the Internet for new learning opportunities in music that would challenge a class of 13-year- olds, I found Soundtrap. Soundtrap is a cloud-based audio recording platform that lets students compose, play and edit songs, recordings and podcasts and share them online in a secure environment.
Collaborating in the Cloud
Because it's so easy to use and the learning curve is virtually nonexistent, the students took to it right away. Soundtrap accommodates iOS, Android, Chromebook, Mac, and Windows, which is an important feature at our school because the students bring in their own devices. As an unexpected benefit, the cross-platform distinction enables the students to work on their projects outside the classroom. It's revolutionary that the kids are collaborating on their projects from home—on their own time.
We initially introduced Soundtrap to the class as a game, whereby the students ordered the alto, soprano, instruments and other musical parts to create a new composition. The Soundtrap platform resembles a Google Drive file storage system for music, only it's easier to use and more creative. Once the recordings are created in Soundtrap, they are sent through a MIDI file to our DAW, ProTools.
ORT recently purchased 900 Soundtrap licenses, which the students access via their student accounts through a portal within the school's virtual campus system. In addition to their Soundtrap Premium account, Internet-enabled PCs and headphones that the school provides aid the students in their music studies.
A Classroom That Virtually Sings
Our music classes are organized in four modules over a four-month period. The first three modules focus on musical structure such as rhythm, harmony and melody. A theoretical introduction using texts and videos rounds out each class.
The fourth module is the students' final assignment. Working together in pairs, each must produce a project of between 3 and 5 minutes in length on one of seven subjects. These collaborative projects were phenomenal, in part because Soundtrap's real-time features increased their willingness to learn from one another and practice shared decision-making. Some of the projects were remixes of DJ mashups or popular advertising jingles, while others created music for an existing video or showcased their original music.
One of Soundtrap's added benefits is the initiative that students have taken beyond the classroom. One student, Martina, downloaded the Soundtrap app so she could continue doing mashups at home. Sofia collaborates with friends on Soundtrap to produce music for her dance videos. Thomas, an aspiring musician, uses Soundtrap to manage the technical components of his music. You know you're providing valuable learning tools when your students want to do more work than they have to.
Meeting Students Where They Live
In our quest as music teachers to offer programs that accommodate students of varying musical interests and abilities, accessibility is key. Soundtrap levels the playing field for all our students because they can work at their own pace. The real-time access allows for simultaneous creating and satisfies their need for immediate feedback. And they don't need to read music or understand how to program music to make their audio recordings.
Collaborative learning helps produce a generation of students that can listen carefully, ask the right questions, synthesize information and negotiate in a healthy manner. Our team of educators sees Soundtrap's greater value in the overall student learning process and plans to integrate the platform more fully across subjects.
As an educator, nothing excites me more than seeing students embrace new learning experiences. And with today's technology a natural extension of almost everything they do, it's important to give students the opportunity to explore these learning experiences in the digital environments in which they live.