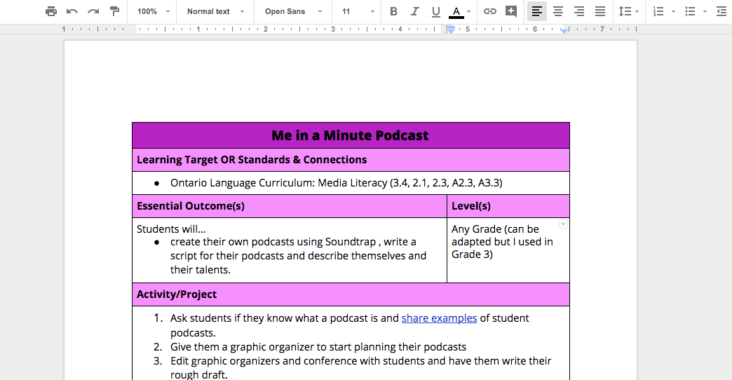 Creating Podcasts in a Canadian Classroom
February 12, 2018
I was first introduced to Soundtrap at a workshop at an EdTeach Team summit two years ago run by Meredith Allen.  During the workshop, I had the chance to experiment with the Soundtrap program and learn how to use the tool in the classroom. I was instantly impressed by how easy it was to use, and as a teacher who is passionate about the arts and global education, I loved the possibility of being able to create a piece of music collaboratively with a teacher somewhere else in the world. My philosophy with any professional development session is to try to utilize it as soon as possible or you will forget what you learned so the next day, so I jumped right into the program with my grade 3 students a few days later. I was already planning to create podcasts with the students called "Me in A Minute," an idea that I got from another teacher where students create a podcast about themselves discussing their talents, gifts and telling the listener a little about themselves. It is a great project as it connects to our media, language arts, and family life program.
When I begin the project, I usually start off talking about what a podcast is by having students listen to an example of a podcast for children. We discuss how podcasts generally contain music at the start and end and digital audio or video files, which a user can download and listen to. Then students are given a graphic organizer to start planning out their own podcasts on paper. We edit, revise and work on putting together a polished script.
I then introduce students to how to use Soundtrap using a short tutorial on the website. With a basic understanding of how the program works, I have the students begin recording their podcasts. They also add musical loops for their programs or create their own in the program. Finally, students publish their recordings. I have them save mp3 files to their Google Drive and create a collage about themselves in Google slides and then import the music file as a link. We celebrate the compilation of the projects by listening to each other's podcasts in class, getting peer feedback from each other about what works and what they can improve on next time. Students also take the time to self assess themselves on the project.
My next journey with Soundtrap is to try to collaborate with a teacher in another country on a musical composition. I'm excited to see what we can come up with and I hope to link it the Global Goals.
Have you tried Soundtrap? I'd love to hear what you have done with the program!
***See Vickie's lesson plan here and visit the Soundtrap library of lessons plans on our EDU Blog.
About the author: Vickie is an elementary educator in Ontario, Canada. She has taught multiple grades and worked as a technology coach. Vickie believes in empowering her students to take charge of their learning to create positive change in the world becoming agents of change. She holds a Masters of Education in Curriculum Studies from Brock University and has presented at conferences throughout southern Ontario. Vickie is a Microsoft Innovative Educator Expert, Skype Master Teacher, Apple Teacher and Nearpod PioNear. She uses technology in her classroom to connect her students with the world.