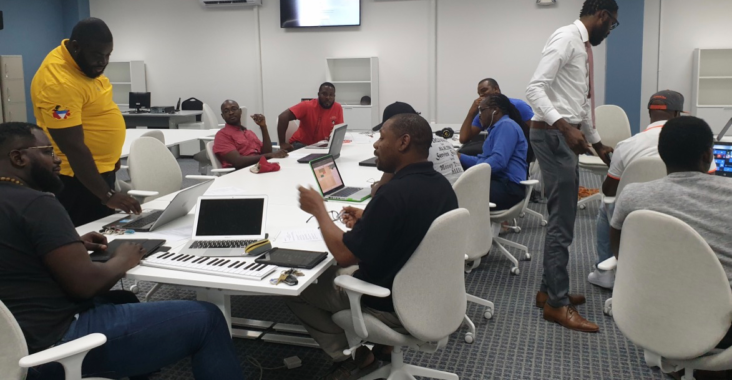 Antigua's Top Musicians Introduced to Soundtrap
January 9, 2020
Ten of Antigua's top musicians participated in a Soundtrap for Entertainers workshop on Wednesday 11 September at Antigua and Barbuda Science and Innovation Park (ABSIP).
The two-hour interactive training session was made possible through a partnership between Soundtrap, the United Nations Office for Project Services (UNOPS) and the Antigua and Barbuda Science and Innovation Park. The training was facilitated online by Taylor Haun, a Soundtrap Education Specialist.
Soundtrap is a popular, easy-to-use online collaborative music and podcast recording studio. It allows users to connect and work on the same tune or podcast in real-time using any connected device. Soundtrap, a Spotify-owned company, is the first cloud-based audio recording platform to work across all operating systems, enabling users to co-create music anywhere in the world. The online studio gives the ability to record, edit and collaborate on any device, and all projects are stored online in the cloud.
By introducing Antigua's top musicians to Soundtrap, ABSIP offers an innovative alternative to local music producers. With a Soundtrap account, access to the internet and a microphone, musicians, singers, poets, and other creative persons can create music and podcasts.
"100% of the participants agreed that they will be able to use the platform in their creative process"
The participants to Wednesday's workshop noted that they valued the collaboration feature of the platform, adding that it was a useful tool that was very user-friendly. Participants included Denis "Menace" Roberts, Khan Cordice, Kemba Browne, Kimdale MacKellar and Herbert "Burga" Joseph.
This group of entertainers now join the educators, who have been exposed to the Soundtrap platform. Soundtrap for Education was introduced to several teachers and junior teachers earlier in 2019.  ABSIP will continue to offer the workshop in the coming year to expose others to the platform.
Written and reported by Carel Hodge, Project Support & Innovation Specialist at Antigua and Barbuda Science and Innovation Park