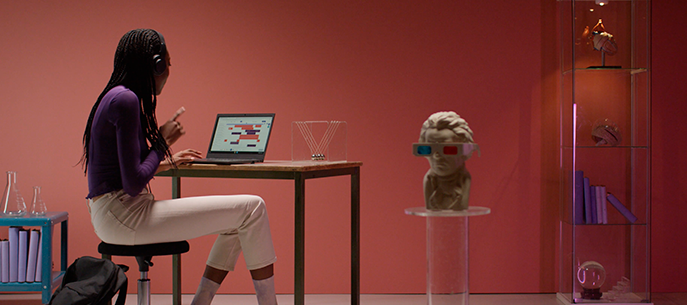 The Important Relationship Between Black History and Music History
January 27, 2023
Let's face it: you can't talk about music history without mentioning the contributions of countless African American musicians. However, their musical innovations go hand-in-hand with the time and cultural climate in which they lived. It's only natural that black history closely intertwines with music history.
Teaching your students about other cultures is a great way to create an inclusive learning environment. This also opens the door to new avenues of creative expression. As your students begin to understand the evolution of music, they can learn about the origins of popular music while increasing their skills as creators. Today, we'll discuss the impact of black history on music history. Additionally, we invite you to try a few exciting lesson plans for your classroom!
How Black History Changed Music History Forever
When enslaved people were imported from the shores of Africa to the Americas, they brought with them the roots of the music. These roots changed music history forever. Amid struggles where black people lacked common human rights, music became the only part of their culture where they could find solace.
Let's learn more about how black history affected music history and transformed it into today's modern music.
The Blues Set the Stage for Modern Music
The blues originated much of the music we hear today. This song genre contains African origins that stem from various countries, tribes, and cultures. Initially, the music served a practical purpose as people used the same sounds found in the blues to identify loved ones during passage after being kidnapped from homes. 
The genre evolved through the centuries, solidifying as the blues in the 1920s. In this decade, some of the most well-known blues singers and musicians emerged, including Robert Johnson, Bessie Smith, Billie Holiday, Leadbelly, and many others.
Characterized by its 12-bar chord progression, we  see Blues music's influence today in the work of artists like Stevie Ray Vaughn, Bob Dylan, The Rolling Stones, Led Zeppelin, and many more. The blues scale is the basis for many of the most prolific songs ever written. 
The Emergence of Jazz
What we know today as jazz music came to fruition in New Orleans during the late 1800s. By the 1920s, it became one of the most popular forms of music.
As both genres came into the limelight in the 1920s, the lines often blur between blues and jazz.  . However, jazz contains upbeat compared to the somber tone of blues and features more complex chord progressions. The pioneers of jazz music include brilliant musicians such as Duke Ellington, Louis Armstrong, Miles Davis, and Charlie Parker.
It's impossible to overstate jazz's profound influence on the trajectory of modern music and music history. Anyone can hear jazz's influence on rock music from bands like The Doors and Pink Floyd, who incorporated the same unusual song structures and chord changes characteristic of jazz. Through jazz, modern hip-hop music evolved. Hip-hop utilizes improvisation and frequently includes samples from jazz musicians.
Rock and Roll Goes Mainstream
In the 1940s and 50s, rock and roll began to gain popularity. During this time, African American musicians like Chuck Berry, Little Richard, and Bo Diddley became well-known for their showmanship. Pretty soon, rock music went mainstream as artists like Elvis Presley received widespread acclaim for their interpretations of African American music. 
Amid the turmoil of the 1960s from the Civil Rights Movement and civil discourse, African American musicians drew inspiration from their surroundings. As a result, popular music took its next incarnation in the form of rock and roll. From the powerful voice of Aretha Franklin to Jimi Hendrix's innovations in the genre, it became clear that music would never be the same. 
During this time, the British Invasion  occurred, which gave birth to the most influential British bands to ever exist: The Beatles and The Rolling Stones. Of course, both of these bands drew  inspiration from the chord progressions and structure of the blues.
The Rise of Rap and Hip-Hop
Hip-hop is more than a musical genre – it's an entire culture that features DJing, MCing, and breakdancing. However, the term also describes  fast-paced, beat-driven music with origins in the Bronx, New York, during the 1970s. During this time, hip-Hop culture created a space where rap music could flourish. Unlike hip-hop, rap music emphasizes lyrical delivery and rhythm.
In the 70s and 80s, African American and Latino communities were plagued by the effects of economic collapse. As businesses closed their doors forever, urban despair gave rise to crime, gang violence, and rampant poverty. When this environment collided with the accessibility of synthesizers and drum machines, rap emerged.
These innovative techniques laid the foundation for influential rap artists like 2Pac, The Notorious B.I.G., Dr. Dre, and many others. These rappers would go on to inspire artists we know and love today, including Jay-Z, Eminem, 50 Cent, and innumerable others. 
Modern Music Tools and their Relation to Black History
Not only did black history influence music history, but it influenced the tools we use to create music today. From turntables and synthesizers to modern DAWs, black artists first used and popularized these tools in their pursuit of new music. As popularity grew over the decades, these tools have been adopted by mainstream artists and evolved to serve in more fields than music production. 
Now, your students can draw inspiration from the greats to create their own modern masterpieces with intuitive EdTech tools like Soundtrap for Education. In fact, we'll show you how to get started!
Incorporating Music History into Your Lesson Plans
Music history isn't boring anymore! With easy-to-use tools like Soundtrap for Education, you can bring black history and music history to life. Ready to get started? With these hands-on activities, your students can create, connect, and collaborate while learning about other cultures. Let's dive in! 
The Sound and Feel of the 1920s
The 1920s were a revolutionary time for music because this was when radio stations became widely accessible to everyone. The most popular music of the period, like jazz, blues, swing, and ragtime, have their roots in African American culture and heritage.
Let your students experience The Sound and Feel of the 1920s and learn more about music history! Get started by playing a popular modern song when students arrive. Bonus points if you play a popular song with samples from the 1920s. Allow students to have a class discussion about the song. What issues does the music reflect? What feelings does the artist portray? 
Next, play a few audio clips from the 1920s and discuss significant events of the period, such as the rise of jazz music, the Harlem Renaissance, and post-WWI life. Consider showing visual art from the time as well. Then, establish the relationship between the art of the 1920s and today's art.
Now, you're ready to assign the project! Let students get in touch with their creativity by making an audio file representing a chosen image from their life. Students will explain their reasoning behind the track and idea, then share their creations with the class.
That's a Rap!
Rap became mainstream in the 1980s and still maintains its cultural relevance. While rap music is conceived from the experiences of urban, working-class African-Americans, all students can express themselves through rhythm and poetry. Get started with That's a Rap!
Allow your class to begin conceptualizing rap by working together and using body percussion to keep a steady beat. Inspire them to create their raps by starting with your own example, then ask students to write their raps using their name, place, or a thing.
Once your class feels the groove, have them open up Soundtrap so that they can add a little pizzazz to their raps. Students can create a new project using a blank template, drum kits, or pre-recorded loops from our loop library. After finishing their rap, let your students take their creative vision to the next level by creating music videos to share with the class.
The Evolution of Hip-Hop: Connect and Respond
Hip-hop has been evolving since the 1970s and is an integral part of American culture. Teaching your students about the culture of hip-hop and its role in music history is a stellar way to encourage cultural awareness while dispelling negative stereotypes. Make learning about other cultures fun and exciting with our Evolution of Hip-Hop lesson plan! 
In this lesson plan, your students will deepen their understanding of hip-hop and its relation to music history by listening to four songs on our 9-12 Playlist. Host a class discussion about the songs so that students fully understand each composition's social, cultural, and historical context. 
Lastly, students will answer questions about the differences and similarities between the songs. Encourage students to offer their perspectives by discussing which song was their favorite and what was happening in the world when the song was written.
Make Music History Exciting with Soundtrap for Education
Soundtrap for Education is the ultimate audio production platform for students and teachers to create and edit audio recordings. Pupils and educators can easily tap into their artistic side.  This intuitive audio platform facilitates a creative learning environment for every subject, regardless of the student's age or experience level.
With Soundtrap for Education, students and teachers can collaborate with advanced cloud technology at any time or place. In addition, the platform comes equipped with a robust resource portal. It contains tutorials, an external curriculum, and lesson plans to complete the educational experience. And to ensure privacy, teachers can set up invite-only groups in Soundtrap's versatile digital environment. 
If you're ready to enhance your educational experience with an intuitive cloud-based audio production platform, get started today with Soundtrap for Education! And be sure to share this article with other teachers in your network to help spread the joy of learning through sound.