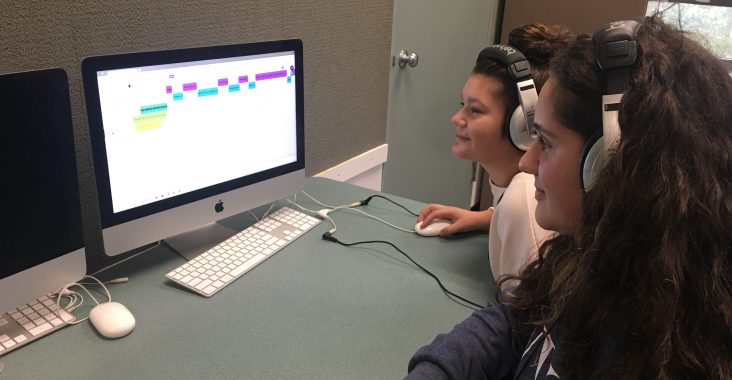 New Jersey Students Win Contest Through Podcasting
November 1, 2018
New Jersey's Hopatcong Middle School 7th grade students, Emily Serio & Samara Ibrahim, were one of 55 winners in Sussex County's annual "What's Your Anti-Drug" Contest.  The contest asked students to showcase how they stay drug-free through the use of a story, artwork, poetry, or photograph. Emily & Samara asked their music teacher, Mrs. Shawna Longo, if they could use the theme for their podcast project despite the fact that the contest did not say that it would accommodate audio files.  The students used Soundtrap, a cloud-based DAW software within the school's MusicFirst Classroom to record, compose and arrange their podcast. The submission was sent via email and The Center for Prevention & Counseling was very excited to receive their first-ever podcast!
The 2018 "What's Your Anti-Drug" Contest was sponsored by The Center for Prevention & Counseling and The Coalition for Healthy & Safe Communities.  This year's contest had nearly 800 entries representing 32 schools in Sussex County, New Jersey. The winning entries will be featured on Monday, November 5th in the "What's Your Anti-Drug?" supplement inside the New Jersey Herald.
Here's a sneak peek:
A big thanks and kudos to Shawn Longo for supporting her learners and sharing their work. As a professional development specialist, curriculum consultant, and arts integration specialist, Shawna has extensive experience writing curriculum and presenting numerous workshops. She serves as the Arts Integration & STEAM Specialist for TMI Education, Fellow & Apprentice Coach for Education Closet, & Ambassador for MusicFirst and been featured as a guest lecturer at Westminster Choir College in Princeton, NJ, Montclair State University in Montclair, NJ, and Columbia University Teacher's College in NYC.