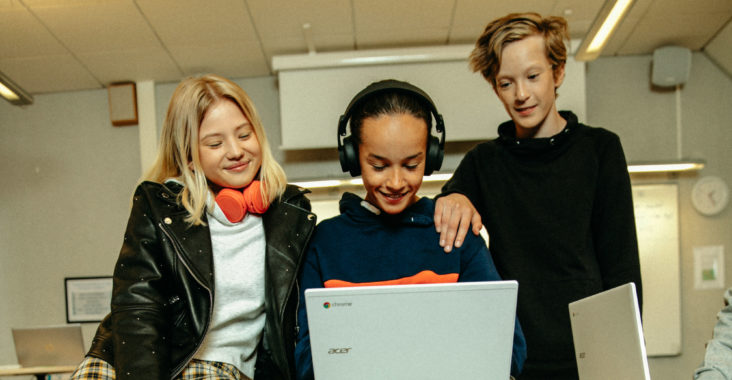 Brooklyn Kids Excel with Jingle Bells & Show and Tell
December 20, 2018
Soundtrap is a music-making app that allows Brooklyn kids to create their own tunes and sound effects. It also allows them to record their voice and add it to the mix.
Dear Soundtrap Team,
I am Kelly Perez, the band teacher at PS 200 in Brooklyn, NY and my students and I love cupcakes, integrating technology into our classroom and finding new ways to make music! I wanted to share with you our unit on Jingle Bells.
The student objectives included learning to play a simple melody using all 5 fingers in C position with differentiation (basic: right hand only, advanced: right and left hand); understanding how the elements of music including tempo, key, form, timing, and texture are applied when creating a song, or in this case, an accompaniment; and to experience the various roles in creating a "radio-ready" song in a studio (as opposed to live music).
Their prior knowledge included some basic piano skills – C position and finger numbers, rhythmic and pitch identification, and some students play instruments outside of class. The unit was a truncated version of a more extensive unit that basically gets repeated and expanded in January. This "intro" was only 3 classes.
Class 1 – History and context of the song "Jingle Bells" with listening analysis of a techno-styled remix.
Class 2 – Analysis of Jingle Bells notation – rhythm, solfege, pitch names and finger names. Practice on pianos with partners
Class 3 – Choice of continuing to practice Jingle Bells on the piano or "entering the studio" to create the arrangement using loops from Soundtrap. At the end of this class, those on the piano were supposed to self-reflect on their progress and decide if they were ready to enter the studio to play with the accompaniment (as you can hear, many did not make the best choice here, lol!). We then played the pianos and arrangement together. Typically, the first problem is with timing so there is an opportunity to remind students of tempo and timing and listening. We then recorded.
Next year I'd like to try to expand this to 4 or 5 classes so that we can focus a bit more on the piano part and I would like students to collaborate on the Soundtrap arrangement using their own iPads with specific goals (i.e. iPad 1 adds drums, iPad 2, bass, but they all have to agree on form). I will also invite students who play an instrument out of class to learn Jingle Bells as well and to work that into the song and form. This will allow for another great opportunity to discuss transposition of instruments.Below are videos of two of the classes performances of their finished project.
Enjoy and have a great holiday!
Kelly