2023 ISTE Conference with Soundtrap
August 8, 2023
In late June of 2023, Soundtrap for Education attended a marquee event for technology in education at the International Society for Technology Education (ISTE) conference in Philadelphia. The ISTE conference is a hybrid event where educators and thought leaders in education can connect with each other to share the latest innovations in their industry and learn more about the emerging teaching methods. During this three day event, the Soundtrap team was able to share the benefits of education-focused solutions offered in the Soundtrap Studio.
Soundtrap for Education empowers educators by allowing students to learn in new, exciting ways. At the ISTE conference, we had the opportunity to share the influential ways that educators can use Soundtrap to supercharge their teaching methods with the latest EdTech tools.
If you missed out on the ISTE conference, we'll give you the inside scoop on the event. Let's go!
All About the ISTE Conference with Soundtrap for Education
If you're ready to revolutionize your curriculum with the power of Edtech, you've come to the right place. With the help of our partners at MusicFirst, we were able to make our booth a rousing success for EdTech and music education.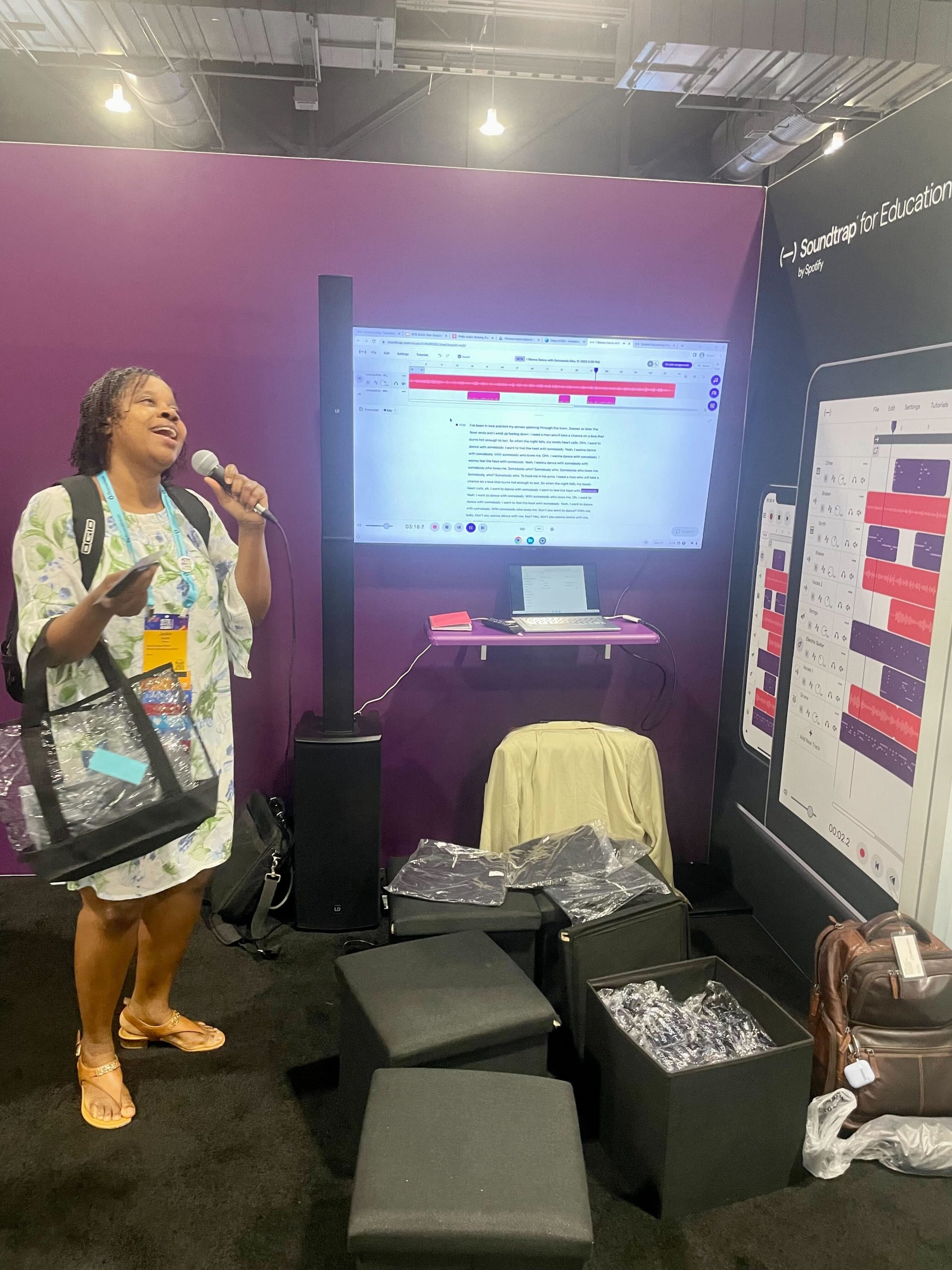 When we weren't elevating the voices of our students or explaining the value of interactive music lessons, we were able to take part in events across the conference, even organizing an event with Find Your Grind and being the main sponsor of EdTech Karaoke. 
Wanna hear the recap from the educational, fun-filled event? Listen here.
During the event, we discussed all the ways that educators can use Soundtrap for Education to create engaging lesson plans unlike any other. Today, we'll review a few of the topics we discussed at the ISTE conference, and share a few ways that you can incorporate Soundtrap for Education into your curriculum. 
Engaging Students with Interactive Music Lessons
You can bring your music lessons to life with the right EdTech tools! At the ISTE conference, we discussed the relationship between music and student engagement. Also, we showed attendees how they can use Soundtrap to make music lessons more fun than ever before.
The Relationship Between Interactive Music Lessons and Student Engagement
Music has a special way of bringing out the best in students by allowing them to think of complex topics in new, exciting ways! The ISTE conference wouldn't be complete without discussing the relationship between music and student learning.
ISTE attendees had the opportunity to learn directly from the Sountrap team about how they can use music education to enhance their teaching methods. For instance, creating a song can help become incredible storytellers or adept at identifying emotions. If your students aren't too keen on reading, you can enliven the lesson plan by integrating music education with literature studies. 
Create Musical Compositions with the Entire Class
At the ISTE conference, the Soundtrap team taught educators how you can bring hands-on learning to your classroom and spark student engagement with interactive lesson plans. If you're interested in teaching your students about the power of music composition, our Composition Project will help you get started! 
Your students' compositions will reflect their creative process, including how they used their inspiration to create a song with loops, instrumentation, and sounds. Also, your students can add effects, vocals, and automation for a professional-sounding composition. Pretty soon, your students will see that composing music is more fun than they might think! 
Soundscapes of Learning: Creating Student Podcasts
These days, everyone listens to podcasts and that's why we taught educators how they can bring student podcasting to their classrooms at the ISTE conference! If you're ready to incorporate podcasting into your lesson plans, we'll let you know how to get started today.
Why is Student Podcasting on the Rise?
There's never been a better time to create a podcast, especially if you're interested in enhancing your lesson plans! At the ISTE conference, we covered everything educators needed to know about creating student podcasts, because they're a great way to engage students, delve deep into complex subject matter and give their students the opportunity to express themselves authentically.
How Soundtrap Increases Equity and Inclusion in Education
The ISTE conference is all about connecting educators from around the world by helping them revolutionize their teaching methods with cutting-edge technology. We also talked about ways that educators can use Soundtrap to increase accessibility for students from all backgrounds. This is where podcasting comes in. 
By creating podcasts with a cloud-based platform like Soundtrap for Education, your students can create with the help of classmates and industry experts at any time or place! And since some students don't have access to high-end recording equipment or a quiet place to work, Soundtrap for Education makes it possible for students to express themselves even if they have nothing more than an internet connected device.
How to Create Student Podcasts with Your Class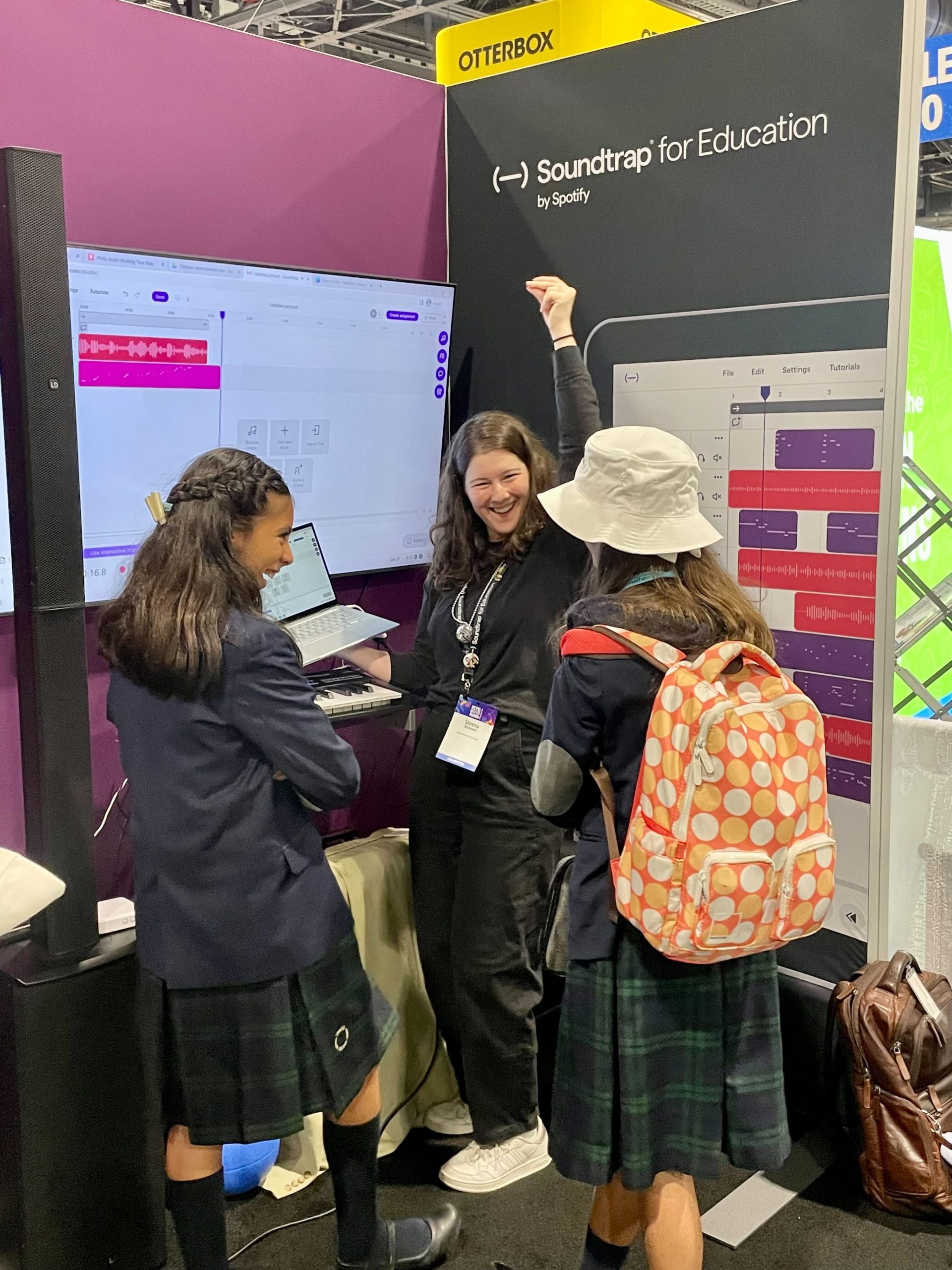 Encouraging your students to choose their podcast styles can unlock a world of creativity and enthusiasm in their podcasting journey. By offering a range of formats such as interviews, narratives, panel discussions, storytelling, or even a combination of styles, students can explore their unique voices and storytelling preferences.
If you're ready to bring student podcasting to your classroom, get started with these simple steps:
Instruct students to create a podcast script.

The creation of a podcast script serves as an excellent exercise for students to hone their mixing skills and understand the structure of audio content. A well-crafted script will lay the foundation for a successful podcast episode.

Let students record their podcasts.

Encourage them to speak clearly, authentically, and with passion about their chosen topic. This is their opportunity to connect with their audience, share knowledge, and express their creativity.

Teach students to edit their podcasts.

Editing a podcast can get a little tricky, but we have

plenty of resources

to help you along the way if you didn't get to see it in person at the ISTE conference.
Teaching students to create their own podcasts is a wonderful way to connect with your students on a deeper level and encourage them to form their own voice.
AI at the ISTE Conference: How Will AI Change Education?
The EdTech industry is undergoing a drastic transformation with the help of AI. Fortunately, we were given the opportunity to talk to industry leaders about it at the ISTE conference. We rediscovered how AI has the potential to enhance teaching methods. This can happen by providing every student with an intellectually stimulating and highly personalized learning experience.
In light of teacher shortages and widening opportunity gap amongst students, AI technologies will make it possible for educators to create a more inclusive learning environment. For instance, educators can use AI technologies to provide students with personalized support. Integrating AI into your curriculum will help you prepare the next generation for a better future. As one ISTE attendee said, "my biggest takeaway is that everyone learns at their own pace."
In fact, the Soundtrap team is already working on integrating more AI technologies into our software, so stay tuned! If you're curious about using AI to create music, check out our AI audio mastering tool to learn more about these exciting developments.
How You Can Bring Soundtrap for Education to Your Classroom
Integrating Soundtrap for Education into your classroom can revolutionize the way your students approach podcasting and music projects. As a cloud-based platform, Soundtrap for Education allows students to collaborate in real-time from anywhere, promoting team-building and creativity.
If you're feeling creative, bring your students into the mix! For instance, you can encourage them to create, collaborate, and connect in the Soundtrap Studio. Whether composing music, producing a podcast, or mixing a soundtrack for a video, Soundtrap provides an accessible and collaborative environment to students.
In the words of an ISTE conference attendee, "My takeaway is to be open to something new. It brings [energy] to the work that we do as teachers. When you bring creativity into your head, it brings you the energy to do it. I'm feeling really creative!"
Because the Soundtrap Studio than just a tool; it's a gateway to endless possibilities in audio and music education. When your students are feeling inspired, encourage them to hop in the Soundtrap Studio and create something great! By bringing Soundtrap for Education to your classroom, you open up a world of creativity and learning for your students.
Create, Collaborate, and Connect with Soundtrap for Education
Soundtrap for Education is the ultimate audio production platform for students and teachers to create and edit audio recordings. Moreover, pupils and educators can easily tap into their artistic side with this intuitive audio platform.  Furthermore, the platform facilitates a creative learning environment for every subject, regardless of the student's age or experience level.
With Soundtrap for Education, students and teachers can collaborate with advanced cloud technology anytime or anywhere. In addition, the platform comes equipped with a robust resource portal. The portal contains tutorials, an external curriculum, and lesson plans to complete the educational experience. And to ensure privacy, teachers can keep student collaboration safe and secure with invite-only groups in Soundtrap's versatile digital environment. 
If you're ready to enhance your educational experience with an intuitive cloud-based audio production platform, get started today with Soundtrap for Education! Share this article with other teachers in your network to help spread the joy of learning through sound.